The IMF has said Budget 2016 was correct to share the fruits of economic recovery through increased spending and tax cuts.
But it added that the measures could have been more growth-friendly, and recommended that any future unexpected revenue gains should be used for debt reduction rather than tax cuts or spending gains.
In its fourth post programme surveillance report, the IMF said the tax changes in the Budget, "aimed at increasing labour participation, and additional social expenditures could be better targeted and more protective of budget resources".
The organisation said money thus saved could have been spent on capital spending and spending related to demographic pressures.
It was more critical of the decision not to revalue houses for Local Property Tax until 2019, saying "maintaining timely property revaluations for revenue purposes would cement sustainability of the revenue base".
It said the structural budget deficit will disappear by 2018, but warns that holding a structural balance thereafter "would be the minimum required to ensure a prudent pace of debt reduction".
The IMF is also critical of moves to stabilise rents in private accommodation, saying moves that reduce the rates of return on investment properties could discourage construction of more rental units, which would worsen the housing shortage.
It blamed "onerous building codes" allied with the financial weakness of builders and tight lending standards in banks for the housing shortage, which has fuelled growth in prices and rents and "stretched" affordability of housing.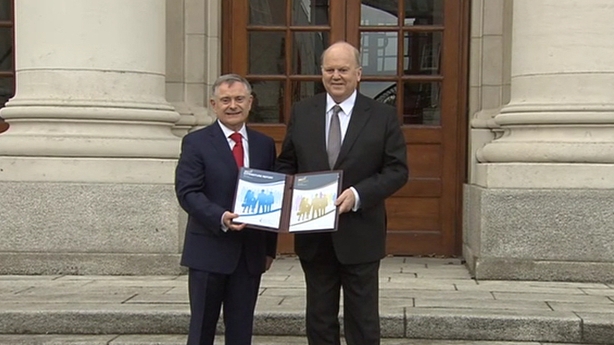 Overall it warned that while Irish economic growth continues to outperform expectations, the country is still vulnerable to new economic shocks and must continue fiscal discipline.
The monetary group said risks to global economic growth are rising and Ireland remains vulnerable to economic shocks, mainly because of a still very high level of public and private debt.
It said building economic resilience is essential, and increasing room for policy manoeuvre is vital, pointing out that government debt is now four times higher than it was pre-crisis.
It said banking and housing policies are "appropriately" focussed on fixing the remaining damage from the last crisis and avoiding another cycle of boom-bust.
The IMF said continued efforts by the Central Bank are needed to push forward the resolution of mortgages in long-term arrears.
It supports the Central Bank's lending rules, which introduced a 20% deposit requirement and a fixed loan to income ratio at the start of this year, saying they have curbed people's expectations of house price growth.
It warned that the non-bank sector needs to be closely monitored for its role in financing commercial real estate to identify any vulnerability, particularly any potential spill-overs to the banking system.