Japan slipped into its fourth technical recession in five years between July and September - highlighting how the government's "Abenomics" policies have struggled to drag the economy out of chronic stagnation. 
Official data showed the world's third-largest economy shrank an annual 0.8% in the three months from July to September. 
This came after a 0.7% contraction in the prior quarter, putting the country firmly into recession - two consecutive quarters of declines. 
Today's data highlights the need, analysts say, for structural reform aimed at breaking through supply-side constraints including labour shortages in a fast-ageing society, which suffered from chronic deflation for more than 15 years. 
Economics Minister Akira Amari noted a shortage of labour available for public works projects to stimulate the economy, highlighting a major constraint policymakers face - not enough suitable workers to build growth.
Amari urged Japanese firms to use their record cash holdings to raise wages and boost capital spending to generate a virtuous circle of growth led by the private sector, instead of simply demanding yet more stimulus when such growth remained elusive. 
But the minister Amari was targeting a corporate sector that has shown little enthusiasm for Japan's economic prospects of late. 
The Reuters Tankan sentiment index for manufacturers last week fell in November from October, posting the lowest reading since April 2013. The service sector index fell in October to its lowest since March, dragged down by wholesalers and retailers. 
Even though today's numbers were gloomy, the government maintained its cautiously upbeat outlook, saying that despite some weaknesses, the economy continued to recover moderately on improvements in job and income conditions.   
"While there are risks such as overseas developments, we expect the economy to head toward a moderate recovery thanks to the effect of the various (stimulus) steps taken so far," Amari said in an earlier statement.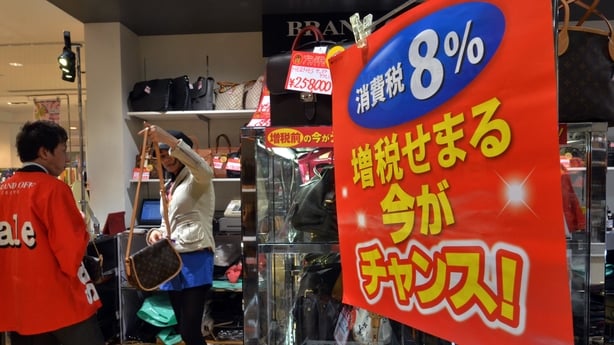 Amari said a big reduction in inventories was the major culprit in the third-quarter contraction. Excluding this effect, he said, final demand contributed an annualised 1.4% point to growth. 
But capital expenditure fell 1.3%, more than a median market forecast of a 0.4% decrease, to mark a second declining quarter, and revealing the sluggish state of manufacturing investment. 
Private consumption, which accounts for about 60% of gross domestic product, rose 0.5% from the previous quarter, in line with forecasts. 
While domestic demand shaved 0.3 percentage point off GDP growth, foreign demand for Japan's exports added 0.1 point, the data showed. 
The weak data would have come as little surprise to Bank of Japan officials, who had also largely factored in the recession, and now expect growth to recover in coming quarters as consumption and factory output show signs of a pick-up, however modest. 
The data will be closely scrutinised by the Bank of Japan, but board members are widely expected to keep monetary policy steady at the central bank's rate review this week, analysts said.