Commerzbank will pay a dividend for the first time since 2007 as its recovery gains ground, the German bank said today.
The news comes the day after its chief executive, architect of the bank's turnaround, said he would step down in a year's time.
Germany's second-largest lender said it will pay out 20 cents per share for 2015, adding it would take time to reach its medium-term target of 40% of net profit.
The bank has accrued €250m for the payout but its chief financial officer Stephan Engels said it would be difficult to post a net profit of more than €1 billion this year.
Martin Blessing, the only CEO of a German state-rescued bank to remain in power, had skirted questions on his future.
But he said on Sunday he would leave after his contract expires in October 2016, adding it was time for someone else to take over running the bank.
"When we pay a dividend in the spring of 2016 we will be a completely normal bank again," Blessing said in a note to staff today, adding the sole motive for his departure was to seek a new professional challenge.
Some investors and analysts however said his move was overdue.
"Investors have bled a lot in past years. A new CEO should come in from outside the bank with a new vision, a perspective on issues like cost structures," a top 20 shareholder said.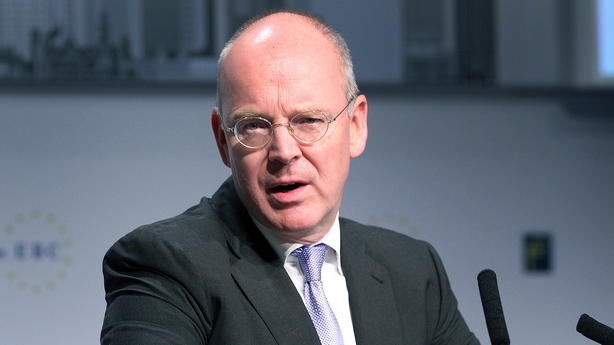 Blessing, who took the helm in May 2008, has spent most of his time restructuring the lender after its near-collapse following the Dresdner Bank takeover in the midst of the financial crisis. The German state rescued Commerzbank with an infusion of more than €18 billion, much of which has been repaid.
The German government still holds a stake of more than 15% in the lender, one of the issues awaiting a new CEO.
Under Blessing's direction, the bank, which finances more than a third of the country's exports, has cut costs and shrunk its balance sheet by exiting shipping and commercial property loans, among others. Instead he has focused on corporate and retail banking.
"Today, Commerzbank has a robust business model, excellent employees and managers, as well as a culture that is the envy of many companies," Blessing said over the weekend.
The bank, Germany's second-largest by market value after Deutsche Bank, does not have a deputy CEO on its board.
Markus Beumer, who heads the Mittelstandsbank unit serving Germany's raft of medium-sized companies, is seen as a candidate to take the helm, but the bank is also expected to scout for outside candidates.
Commerzbank posted a pretax profit of €401m in the third quarter, topping an average forecast of €349m as its retail bank thrived, provisions for bad loans fell and its portfolio of unwanted assets broke even.
The cash cow Mittelstandsbank unit saw operating profit decline, partly due to a writedown on a loan to failed construction group Imtech.