New figures from the Central Statistics Office show that residential property prices on a nationwide basis rose by 1.3% in September.
Residential property prices nationwide are up 8.9% in September compared to the same time last year - the slowest annual rate of increase since June 2013.
The annual growth rate has slowed from 15% in September of last year.
Today's figures show that Dublin residential property prices rose by 0.9% in September compared to August.
Dublin residential property prices are 6.5% higher last month than the same time last year.
Outside of Dublin, residential property prices rose by 1.6% in September on a monthly basis. Prices are up 11.4% compared with September of last year.
Breaking down the figures, the CSO said that Dublin house prices rose by 1.1% in September while Dublin apartment prices decreased by 0.4%.
The CSO noted that the data for apartments is based on low volumes of deals and so can see greater volatility than other housing figures.
Overall, residential property prices remain 34.6% lower than their peak level in 2007.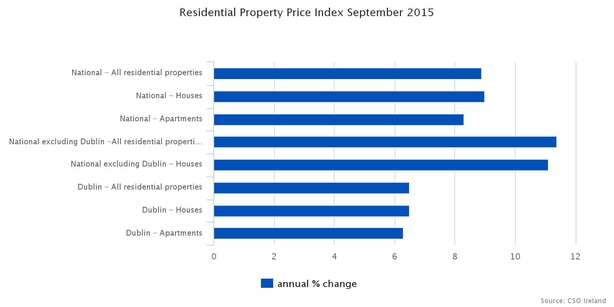 Dublin house prices are 33.7% lower than their peak, while Dublin apartment prices are 40.7% off their highs seen in 2007.
Outside of Dublin, residential property prices are 37.7% lower than their highest level in 2007.
Property Industry Ireland (PII), the Ibec group that represents businesses working in the property and construction sector, has warned that the slowdown in house price inflation is masking a housing shortage in many parts of the country.
PII Director Peter Stafford said: "The moderation in house price growth in Dublin is largely driven by reduced borrowing capacity because of new Central Bank mortgage rules. While this lending policy is positive, in that it reduces the exposure of households to future fluctuations in prices, it masks the underlying crisis in the housing sector.
"There is a severe shortage of accommodation to rent in many urban areas, and a lack of affordable housing to buy. It was disappointing that the Budget did not put any measures in place to stimulate new development, nor does there seem to be a strategy to help achieve a supply-demand balance over the longer-term. Ireland still needs a national property strategy and a vision for success in housing," he added.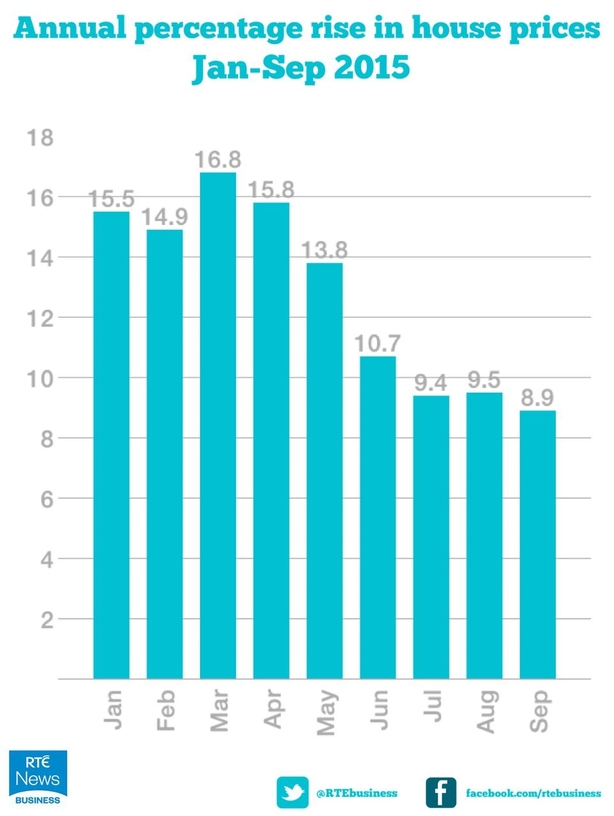 Commenting on today's figures, Investec economist Philip O'Sullivan said that on an annual basis prices have been rising outside of Dublin at a faster pace than in the capital for the past three months.
He said this reflects both the impact of the upturn in the domestic economy and also a growing phenomenon of people who have been priced out of the Dublin market buying in its commuter belt.
Meanwhile, Alan McQuaid from Merrion Economics said it appears that the stronger than anticipated August reading was just a seasonal thing rather than a sign of renewed strength in the housing market on the back of a booming economy.
"Indeed, one has to assume that the tighter mortgage lending restrictions imposed by the Central Bank and the end of the Capital Gains Tax property purchase incentive scheme as announced in Budget 2015 have weighed negatively on the market this year," he added.