The European Investment Fund and Bank of Ireland have signed an agreement to increase lending to innovative small and medium-sized enterprises here.
The new agreement allows Bank of Ireland to provide finance to innovative companies in Ireland for a total of €100m over the next two years with the support of a guarantee provided by the EIF and backed under Horizon 2020, the EU Framework Programme for Research and Innovation.
Meanwhile, the European Investment Bank is today finalising financing arrangements with Dublin Port for its Alexandra Basin Redevelopment Basin. 
The EIB has committed to providing a €100m loan over 20 years, which reflects the long-term nature of the project.
This is the first time in 20 years that the EIB has financed port infrastructure development in Ireland, and Dublin Port said it highlights the strategic significance of the project.  
The project is expected to take five years to complete and will cost about €230m.
"The Port of Dublin is a crucial transport hub for Ireland and the European Investment Bank looks forward to supporting redevelopment of the Alexandra Basin," commented the EIB's Jonathan Taylor. 
"This reflects our firm commitment to supporting transport schemes across Ireland such as the M11 road upgrade announced last week and Luas cross city connection currently being built," the EIB's vice president said.
The new investment comes as the Dublin Port company said that trade volumes continued to rise in line with forecasts for a record year in 2015.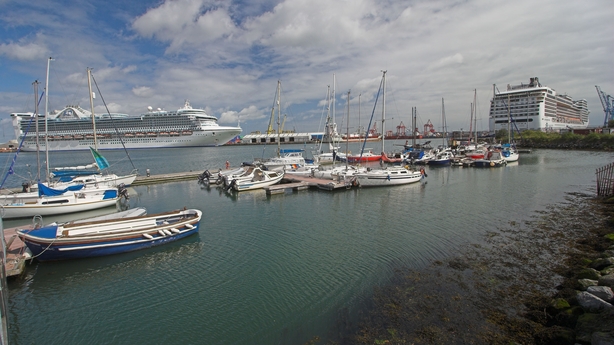 Total through - both imports and exports - for the year to the end of September were up 5.8% to 24 million gross tonnes compared to the same time last year.
Imports were up 6% to 14.4 million gross tonnes, while exports grew by 5.5% to 9.9 million tonnes. 
Meanwhile, the EIB has also completed an initial investment of €12m to support the expansion of next generation fibre optic telecom infrastructure across Ireland by open-access network operator enet.
The 12m loan deal, is the EIB's first project in Ireland  under a new programme, Innovfin, which is aimed at streamlining lending for innovation.
Enet's current investment programme includes the delivering of 'fibre to the business' networks in a number of Irish towns, including Claremorris, Loughrea, Ardee and Kilkenny.
The EIB, along with the Department of Finance, Enterprise Ireland and the Strategic Banking Corporation of Ireland, is hosting a seminar in Dublin today to showcase the range of financial support available to innovative and growing businesses in Ireland.
"The European Investment Bank is committed to supporting long-term investment in communications infrastructure across Europe and that's why we're supporting enet's expansion of their open access networks to more cities and towns across Ireland," Mr Taylor said. 
"This marks the first use of new, dedicated finance for innovation in Ireland under the Innovfin programme and we look forward to similar strong proposals in the future," he added.