Aer Lingus has announced a major expansion of its transatlantic route network, with three new routes from Dublin to the US.
In its first significant move since being acquired by International Airlines Group, the airline will start a year-round direct service between Dublin and Los Angeles from May 2016, with five services per week.
Direct daily year-round flights will start in early September from Dublin to Newark in New Jersey, while a third new route will commence in late September with a daily service from Dublin to Hartford, Connecticut.
The new destinations will bring to 12 the number of US Aer Lingus routes, and this is the single largest expansion of Aer Lingus' transatlantic network since the airline started transatlantic flights in 1958.
The expansion will create more than 200 new jobs at the airline for pilots, cabin crew, and ground services staff.
Aer Lingus' total long haul seat capacity will grow by more than 17% in 2016, representing the fourth consecutive year of more than double-digit long haul growth.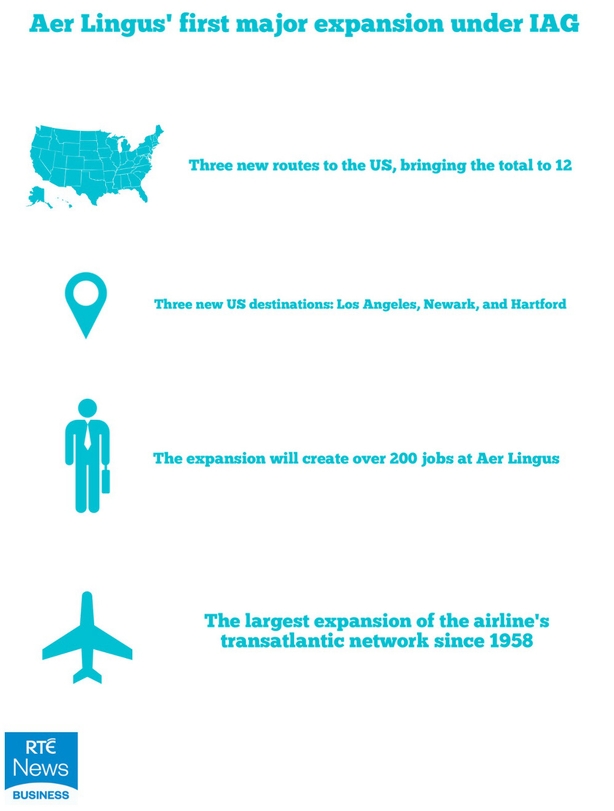 Commenting on the announcement, Aer Lingus CEO Stephen Kavanagh said: "The introduction of these three routes will open up new tourism and business opportunities with improved connectivity through our Dublin Gateway. We look forward to welcoming guests on board our new services in 2016."
Willie Walsh, CEO of IAG, said he believes Ireland's "geographic location and US immigration pre-clearance provides IAG with the natural gateway to build our business between Europe and North America through Aer Lingus".
Mr Walsh added that the long and tough negotiations that led to the takeover of Aer Lingus were worth the effort.
He said not a lot has changed since the group took over the airline on 18 August, but that the iconic brand has been enhanced. 
Minister for Transport, Tourism and Sport Paschal Donohoe said the benefits that would be delivered for Aer Lingus as part of IAG was an important consideration for the Government when considering the disposal of the State's share in the airline and that its "ability to enhance connectivity, grow jobs and secure its future was significantly improved under IAG".
Tourism Ireland has welcomed the three new Aer Lingus routes to the US.
"We look forward to working with Aer Lingus to maximise the promotion of these new flights from the all-important American market," commented Niall Gibbons, CEO of Tourism Ireland.
"As an island, the importance of convenient, direct, non-stop flights cannot be overstated – they are absolutely critical to achieving growth in visitor numbers.Tourism Ireland is committed to working with Aer Lingus, Dublin Airport, as well as other tourism interests, to promote and help maintain vital routes and services to Ireland."
Aer Lingus says agreement on Ryanair connections possible by next year 
Aer Lingus is in talks with Ryanair about providing transfer connections for markets it does not serve, and an agreement could be reached by the middle of next year, Mr Kavanagh said today. 
"We are looking at the opportunities to extend our network reach. There are markets that Ryanair serves that we don't so we are having those discussions about what is currently happening on an ad hoc basis," Mr Kavanagh said. 
"If we get the right price in terms of the capacity from Ryanair, then we would be very interested in doing business. At this point in time we remain in negotiation. If the commercial agreements are reached in time, then summer 2016 is a possibility," the Aer Lingus CEO added.