The purchase of Esso by rival petrol station chain Topaz has been approved by the Competition and Consumer Protection Commission.
The deal, which results in the acquisition of the entire Esso business, will see the Topaz network extended to 425 service stations nationwide - 162 of which will be company-owned.
The company says no service station closures are planned as a result of the deal, however, the Competition and Consumer Protection Commission has directed Topaz to dispose of three Esso service stations in the Dublin area.
In addition, Topaz must divest Esso's 50% share and interest in a sea-fed terminal located at Dublin Port.
The purchase of Esso will bring Topaz's employee numbers in Ireland to 2,000, with Esso currently employing around 400 people here.

The latest acquisition means that in the space of ten years Topaz will have bought out the Irish retail businesses of three of the largest oil companies in the world.
In July 2005 Topaz purchased Shell's Irish operation, before acquiring Statoil's business here a year later.
The new entity is expected to have an annual turnover of around €3.5bn, which would make it one of the ten largest companies in Ireland.
It will also have over one third of the forecourt fuel market by volume.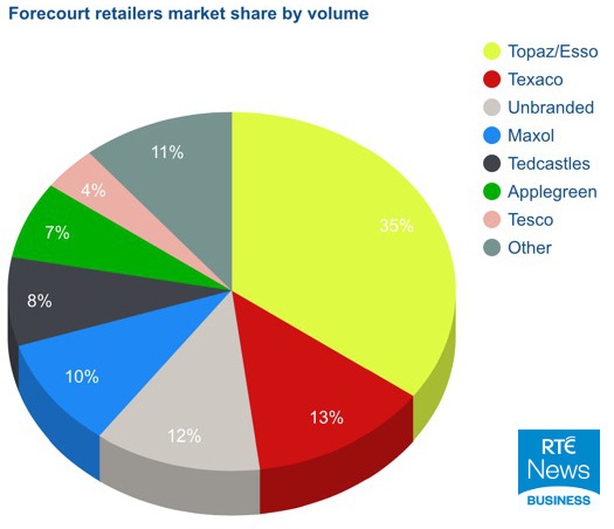 Outside of its service station network, Topaz also operates home heating, and commercial & aviation fuel supply businesses.
The deal is expected to formally close on 1 December.
Commenting on its decision to approve the deal, Chair of the Competition and Consumer Protection Commission Isolde said: "Our role in reviewing mergers and acquisitions is to ensure that they do not substantially lessen competition in any market for goods or services in the State.
"We are satisfied following our extensive investigation, and in light of the binding commitments which we have secured, that we have safeguarded competition, both for consumers and for other businesses in this important sector. "