Wal-Mart Stores has warned that higher wages as well as spending on e-commerce and lower prices would cut earnings per share as much as 12% next fiscal year.
This sparking the steepest one-day decline in the company's shares in 25 years. 
Wal-Mart faces tough competition on multiple fronts, from the relentless expansion of online leader Amazon.com to "dollar stores" and supermarkets fighting for a piece of its grocery business. 
Its international operations are also under pressure with a stronger dollar eating into sales.
Wal-Mart CEO Doug McMillon said a $1.5 billion investment in wages and training, including raising the minimum store wage to $10 an hour from $9, were needed to improve customer service.
He said these factors would account for three-quarters of the expected 6-12% drop in earnings per share next year.
              
Wal-Mart also announced a $20 billion share buyback but the drop in its share price wiped out close to the same amount in market value, and the 10% drop was the worst one-day percentage performance since January 1988.
The world's largest retailer by revenue said it would invest several billion dollars to lower prices over the next three years. That sparked worries of a price war, and shares of rivals including Target and Home Depot also fell.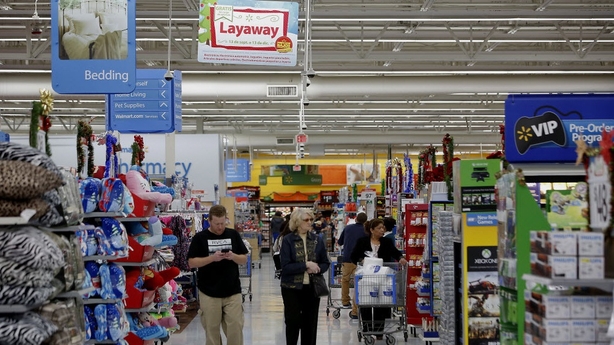 "We can deliver stronger financial performance in the short-term simply by running our core business better but that won't be enough," CEO McMillon said at an investor meeting in New York. 
The company forecast earnings per share would grow 5-10% in the fiscal year ending in January 2019. 
Wal-Mart Stores said current fiscal full-year sales would be flat due to the stronger-than-anticipated impact of the dollar. It had previously forecast net sales growth of 1-2% for the current fiscal year ending January. 
Wal-Mart is spending $1.5 billion in higher wages and training next year. It said it would add 3,500 managers in the US to improve its grocery pickup service.  
The company is building out a network of warehouses to handle e-commerce, a costly move Wal-Mart sees as essential to stopping Amazon and other rivals from stealing its best customers. 
At the same time Wal-Mart projected slower growth in new stores, with 85-95 of the smaller Neighborhood Markets format planned for the fiscal year ending in January 2017, down from 160-170 planned for the current fiscal year. 
"Supercenter" openings would slow to 50-60 in fiscal 2017 from 60-70 this year. 
Price competition was one reason for the slower growth. Analysts said that Wal-Mart could not compete with local grocers in some markets, a factor that has played into its scaled back expansion plans for smaller stores. 
              
It also is trying to spruce up neglected stores. The percentage of stores which got a "pass" grade for cleanliness, speed and friendliness had risen to 67% from 17% at the beginning of the year. 
Wal-Mart has been grappling with sluggish sales, leading investors to seek significant changes. The chain is controlled by the Walton family, whose wealth has taken a dramatic hit this year as shares have slid about 30%. 
             
The company announced a new chief financial officer and appointed a chief merchant last week.