Beer giants SABMiller and Budweiser brewer Anheuser-Busch InBev have "agreed in principle" on a £68 billion tie-up to create the world's biggest drinks firm.
Peroni and Grolsch group SABMiller is set to be taken over after tentatively reaching a deal over a sweetened £44-a-share offer from its Belgium-based rival.
The deal marks the largest takeover of a British firm in corporate history.
AB InBev and SABMiller still have to agree the terms of a formal offer, but have extended the deadline to make a firm bid under City takeover rules to October 28.
The proposed offer is the fifth made by AB InBev in recent weeks, with the group having already tabled bids worth £38, £40, £42.15 and £43.50 a share.
SABMiller has previously spurned its rival's advances, claiming the offers "substantially undervalued" the London-based business.
The latest offer comes just a day before the original "put up and shut up" deadline by which AB InBev had to make a firm offer or walk away for six months.
SABMiller said its board was prepared to unanimously back the all-cash £44-a-share offer.
If AB InBev cannot get the green light from regulators for the deal or if its shareholders do not back the takeover, the brewer would have to pay SABMiller a break fee of £2 billion).
The new offer represents a 50% mark-up on the closing price of SABMiller's shares before the bid battle started in mid September.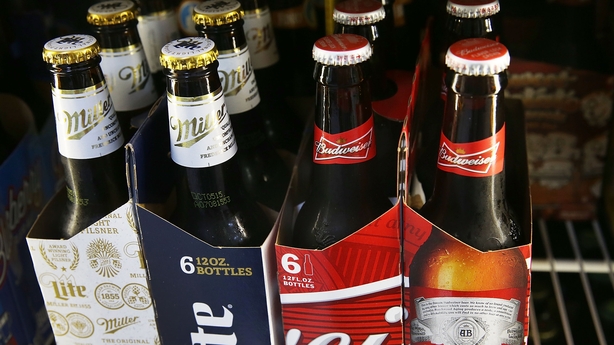 AB InBev had always said it did not want to go hostile with its takeover plans, but was becoming frustrated by SABMiller's tactics and last week urged shareholders in SABMiller to force its board into serious takeover talks.
SABMiller chairman Jan du Plessis had called his firm the "crown jewel of the global brewing industry".
The merger will create a global beer giant worth more than £180 billion.
AB InBev is the world's biggest beer business, while SABMiller is the global number two.
Brewer AB InBev has a stable of more than 200 beers, including Corona, Beck's, Leffe and Hoegaarden.
SABMiller has brands such as Miller, Foster's, Coors and Bulmers cider. It employs around 69,000 people in more than 80 countries and has global annual sales of more than $26 billion.
AB InBev has a 155,000-strong global workforce and makes more than $47.1 billion in global revenues.
SABMiller attempted to acquire rival Heineken a year ago, but its advances were rebuffed.