Details are emerging tonight on Budget 2016.
The Christmas Bonus, abolished in 2009, will be restored by 75%. This means a single pensioner will get €173 and a typical pensioner couple will get €327.
The price of a packet of 20 cigarettes is to increase by 50 cent.
Minister for Finance, Michael Noonan, had €750m, which will be increased to €800 due to the increase in price of cigarettes.
Out of this €800 sum, €600 will go on changes to the Universal Social Charge and tax credits for the self-employed, which are to rise over a three-year period.
The Fuel Allowance payment will increase by €2.50 per week from January, which will see a rise from €20 a week to €22.50, affecting 380,000 households.
The Respite Care Grant will be restored in full.
€120m has been allocated to housing.
Two week paid paternity leave and free preschool for children from the age of three will be offered to parents, as well as the expansion of community childcare subvention.
In terms of Universal Social Charge, the changes to three of four rates have been well leaked. The 7% rate is being cut by 1.5%. The 1.5 and 3.5% rates are being cut by .5%
The threshold at which people pay the USC currently stands at over €12,000 - that will rise to €13,000 and will take another 90,000 people out of the tax.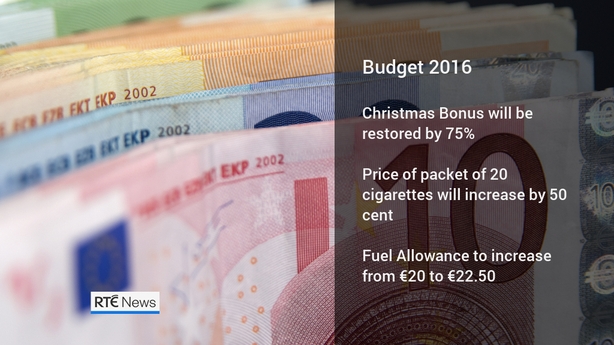 Overall, we are told a single person on the minimum wage with all the changes will be €700 better off.
There will be changes to inheritance tax thresholds. At the moment, children can inherit up to €225,000 from their parents tax-free, with the remaining balance taxed at 33%.
Changes will be made to capital gains tax, solely geared towards businesses.
This threshold will rise to around €280,000 but will only affect children and the family home.
Minister for Finance, Michael Noonan, will address the Dáil tomorrow at 2.15pm which will be followed by Minister for Public Expenditure and Reform, Brendan Howlin, at 3pm.
.@MartinaFitzg reports on what's expected in Budget 2016 https://t.co/DCscrJlUhX

— RTÉ News (@rtenews) October 12, 2015