The Organisation for Economic Co-operation and Development has published its proposals to bring about the biggest change to the way multinational companies pay Corporation Tax since the 1920s.
The plan aims to ensure that multinational companies pay tax in the countries where profits are made, not shifted to the lowest cost jurisdiction.
The OECD has been working on a 15 point plan to combat "Base Erosion and Profit Shifting", or the BEPS Project, for some time.
"Base Erosion and Profit Shifting" is the use by large multinational companies of the complex network of international tax treaties and modern technology to reduce the amount of tax they pay on profits.
The amounts of money involved are staggering. The OECD estimates governments are losing up to $0.25 trillion a year in tax revenue and all of it is avoided completely legally by big companies exploiting the gaps in the existing rules.
This loss is estimated at between 4% and 10% of global corporate income tax revenues - between €100 billion and €250 billion annually. 
The OECD said BEPS is significant and a serious source of concern in terms of lost government revenues, and it particularly hits the revenue base of developing countries, which are more dependent on corporate tax than developed states.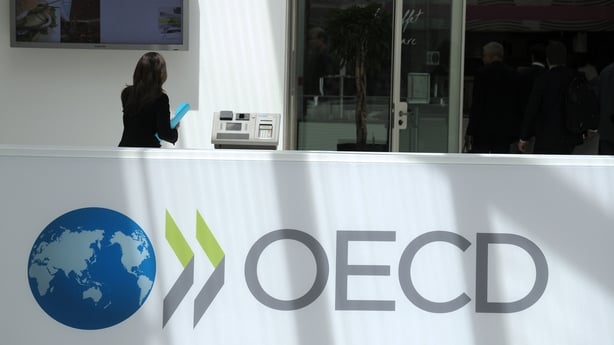 Today's report stated that the profit rates reported by multinationals in lower tax countries are on average twice as high as their group's worldwide profit rate.
This gives multinationals a competitive advantage over companies that lack the scale and resources to move profits around the world to avail of low tax regimes.  
The OECD found the effective tax rate paid by multinationals to be between 4 and 8.5 percentage points lower than similar enterprises with domestic-only operations.
Deducting interest on inter-company loans is also a way for large companies to reduce their tax bills. The OECD found the interest to income ratio for affiliates of the largest global multinationals to be three times higher in high tax countries than the group's worldwide third party interest-to-income ratio. 
BEPS is supported by the 20 most important developed and emerging economies, including the EU and US.
The plans aim to clamp down on aggressive tax planning through updating tax rules, such as those on transfer pricing and interest deductibility in business transactions within multinational companies, and requiring them to report their activities on a country by country basis.
Ultimately it will mean making changes to more than 7,000 bilateral tax treaties to close the loopholes. 
"Base erosion and profit shifting affects all countries, not only economically, but also as a matter of trust," the OECD's Secretary General Angel said today.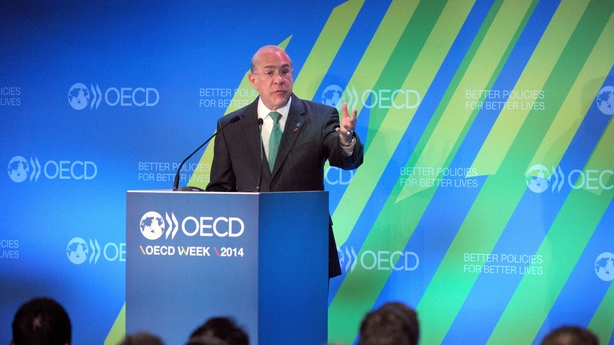 "BEPS is depriving countries of precious resources to jump-start growth, tackle the effects of the global economic crisis and create more and better opportunities for all. But beyond this, BEPS has been also eroding the trust of citizens in the fairness of tax systems worldwide," he added. 
"The measures we are presenting today represent the most fundamental changes to international tax rules in almost a century: they will put an end to double non-taxation, facilitate a better alignment of taxation with economic activity and value creation, and when fully implemented, these measures will render BEPS-inspired tax planning structures ineffective," Mr Gurría said.
As the multinational sector is such a vital part of the Irish economy, the BEPS final report will be closely studied here, and aspects of it are likely to be reflected in the Government's Budget later this month.
New tax rules would play to Ireland's advantage - Noonan
Finance Minister Michael Noonan has said that new international taxation rules to prevent global corporations from avoiding or evading corporate tax would play to Ireland's advantage and would increase foreign direct investment into Ireland.
Reacting to the publication of the BEPS project by the OECD, Mr Noonan said Ireland was not a tax haven and had "never been involved in any kind of tax malpractice." 
Speaking on his arrival at a meeting of EuroGroup Finance Ministers in Luxembourg, Mr Noonan said Ireland did not believe in "agressive tax planning."
He also said that any finding by the European Commission against Ireland in its tax dealings with Apple would be based on "very thin legal grounds" and that Ireland would automatically challenge such a finding before the European Court of Justice.
Mr Noonan said the OECD recommendations on how to prevent multinationals from shifting profits to low or no-tax jurisdictions would benefit Ireland, and that Ireland was happy with the negotiations.
He said the report had three recommendations, covering what minimum standards should apply globally, voluntary best practice, and how the issue would be dealt with in the future.
Ireland was satisfied with the approach on all three recommendations, he added.
In particular, Mr Noonan said that, under the minimum standards part, Ireland would introduce new rules in the Finance Bill on country-by-country reporting.
This is where companies operating internationally would provide tax information to the authorities in their own jurisdiction, and in turn those authorities would share that information with other sovereign states.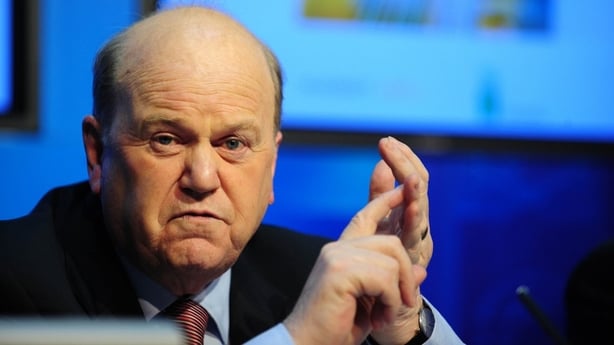 He said Ireland's new so-called "Knowledge Box", whereby companies concentrating research and development or intellectual property operations could avail of a preferential corporate tax rate, would also comply with new requirements under the OECD report.
The Minister said that those rules would also be covered in the forthcoming Bill.
Mr Noonan denied that smaller countries like Ireland would suffer as a result of the OECD report.  
"We took part in all the relevant working parties and our views were taken into account. Inevitably when there are large numbers of countries involved in negotiating agreements there are compromises involved, but we came out rather well, and we're very happy with the country-by-country reporting," the Minister said
"We think it will serve to encourage foreign direct investment into Ireland," Mr Noonan added.
He acknowledged that "international tax planners" had used Ireland in the past, for example in the so-called Double Irish tax practice.
This, he said, was not an Irish policy; rather it was the consequence of residency laws in Ireland, doubled with tax arrangements elsewhere.  
"We don't believe in agressive tax planning, and I have already moved twice in two Finance Bills to stop it. We removed the Double Irish in the last Finance Bill and the one before, we removed the possibility of stateless companies where double non-taxation was the rule rather than taxation," he said.
Mr Noonan said there would be a move at regulating taxation from the OECD to the EU through the so-called Common Consolidated Corporate Tax Base (CCCTB).
He said that Ireland would be keen that what was decided at OECD level was the new policy at the EU and that there weren't "bells and whistles", added on by the European Commission, which "would work against our interest."
Mr Noonan said Ireland was prepared to discuss all the proposals brought forward by the Commission on CCCTB.
"We have two red lines on that: one is that fixing of [tax] rates will still be a matter for sovereign governments, as it is under the treaties now, and secondly that any change will require unanimity, as it is now with tax matters.
"Apart from those two red lines we're prepared to negotiate in this space," the Minister stated.
Mr Noonan told reporters that he had an indication that the European Commission investigation into Ireland's tax arrangements with Apple would be concluded between now and Christmas.
But he added that there had been similar indications before, and said there had been a certain amount of "procrastination" by the Commission.
"Anything that happens we don't think will be damaging to us. If it's adverse we think it's based on very thin legal grounds and we'll have it before the European Court of Justice," he said.
Meanwhile, Mr Noonan denied that the Minister for Public Expenditure and Reform Brendan Howlin had suggested there be tax incentives for builders in the forthcoming Budget.  He declined to speculate on what the Budget would entail.