Latest figures from the Department of Finance show tax revenue for the year is 5.8% ahead of target, with €31.6bn collected up to the end of September, representing a year-on-year increase of €2.74bn - with this figure €1.74bn ahead of target.
Income tax of €12.4bn was collected for the first nine months, a year-on-year increase of 5.7%, while VAT receipts for the same period were €9.7bn, representing an increase of €742m on 2014.
Corporation tax receipts for the first three quarters rose 45.7% to €3.94bn.
Commenting on the figures, Minister for Finance Michael Noonan said: "Overall, the tax performance for the first nine months of 2015 is ahead of expectations, with a very strong performance across all the major tax heads reflecting better than expected economic growth in 2015.
"The tax performance has been very strong through the first nine months of the year, with tax revenues 5.8% above profile and up nearly 9.0% on an adjusted basis, in year-on-year terms. This provides a very solid base heading into the final quarter of the year and Budget 2016," he added.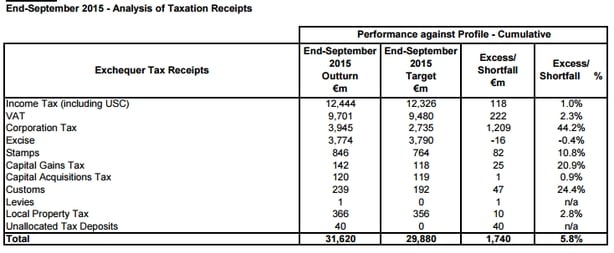 The figures also show the position of the Exchequer continues to improve, with its deficit up to the end of September falling by €4bn compared with last year.
As a result of increased tax and non-tax revenue and reduced expenditure, the deficit in 2015 (excluding one-off transactions) now stands at around €2.1bn, compared to a deficit of over €6bn in 2014.
Commenting on the Exchequer Returns Minister for Public Expenditure & Reform Brendan Howlin said: "Government spending on investment and delivering public services was €39bn for the first nine months of the year.
"This is broadly in line with expectations and profile set out in the Book of Estimates last year. The position on spending for the remainder of the year will be updated at Budget time as part of the 2016 Estimates process."
Fianna Fáil's financial spokesman, Michael McGrath, has said that while the strong exchequer returns are welcome, a note of caution should be taken in relation to the figures generated from corporation tax, which he described as a 'volatile' source of tax revenue.
Speaking on RTÉ's News at One, Mr McGrath also said that despite constraints by EU and Irish fiscal rules, the Government will have a greater capacity to invest in issues such as homelessness, rent supplements and hospital waiting lists between now and Christmas.
Commenting on today's figures economist with KBC Austin Hughes said the exchequer returns give the Government additional scope.
Mr Hughes said: "On the basis of today's numbers, we reckon that the deficit this year could be €2.5 billion or more lower than originally planned. While it makes sense to use some of this to bring borrowing down faster, there is also a reasonable case for using some part of it to underpin and broaden the reach of the recovery in the Irish economy.
"If there is any sort of Budget 'giveaway', it is likely to come before the end of this year rather than in 2016. The arbitrary nature of EU fiscal rules means the rate of growth in public spending is a key constraint from next year. One way of easing that constraint would be to allow a notable build-up in public spending before the end of this year as that would provide a higher base from which next year's increases would be calculated.
"This means that the end 2015 outturn for the deficit would be just under 2% of GDP rather than 1.5% or less which the September exchequer returns suggest could be achieved. So, in effect we could have what amounts to a 'mini-budget' entailing increased spending allocations to end-year," added Mr Hughes.