Property price growth is set to moderate to around 5% by the end of the year, according to new research from MyHome.ie.
In its latest quarterly report, the property website said that an improvement in supply, along with the Central Bank's mortgage lending restrictions, had helped to slow the growth in prices - particularly in the Dublin area.
During the three month period under review, the price of new Dublin listings fell by 0.1% - the first time that has happened in almost three years. Asking prices in the rest of the country rose by 1.8%.
The average price of all properties listed on the website was €205,000, while in Dublin the figure was €286,000.
According to Davy, which compiled the report, this means that the median price for a three bed semi-detatched house is more than five times the average income, which is high by international standards.
In Dublin, the price is more than six times the average income level.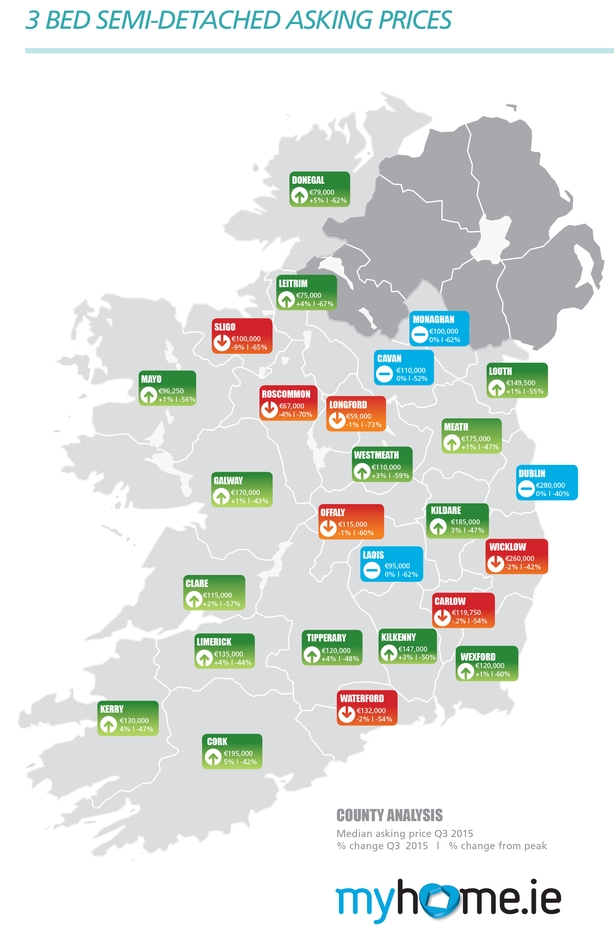 Davy economist Conal MacCoille said that the Central Bank's new lending rules have prevented first time buyers in Dublin from taking out ever higher mortgages.
He said that the 20% plus rates of inflation of summer 2014 were simply not sustainable.
"The fact that the number of properties available for sale in Dublin is up 45% to 5,200 compared to this time last year, has also acted as a further brake on price growth," he added.
Angela Keegan, managing director of MyHome.ie, said Government action to address the lack of supply of new homes in certain areas, particularly in Dublin, is badly needed.

"There were 6,745 housing completions in the first seven months of 2015. While this is up 16% from the same period of 2014 the figures are coming off a very low base and will probably struggle to exceed 13,000 this year, well short of the 25,000 required," Ms Keegan stated.