The country's credit unions have topped a survey of Irish brands based on the experience of their customers.
The survey was carried out by Amárach Research for CEXi.org based on a template provided by KPMG Nunwood, which has published similar reports in the UK, US and Australia.
The National Concert Hall and Dublin Zoo were second and third in the survey.
Aldi, Boots, Butlers Chocolate, RaboDirect, An Post, Penneys, Hailo and Lloyds Pharmacy making up the top ten.
The purpose of the report is to improve customer experience management in Ireland, to set up a league table by which companies can benchmark their progress in this area and to measure how customer experience here compares internationally.
CEXI.org said the success of the credit union in the survey was due to its "ethos and culture".
"Credit unions are deeply embedded in the communities in which they operate. They are member owned organisations which provide a personal financial service to their customers. Like most of the top performers they scored very highly on empathy, which is something you can't buy or recreate through advertising," commented CEXI director Inga Ryan.
The retail and supermarket chains also came out well in the survey, taking 13 of the top 30 slots. The pharmacy sector also scored very well.
Gerard O'Neill of Amárach also said that the strong performances of Aldi, Penneys and Lidl was interesting. They were fourth, ninth and 29th respectively in the survey.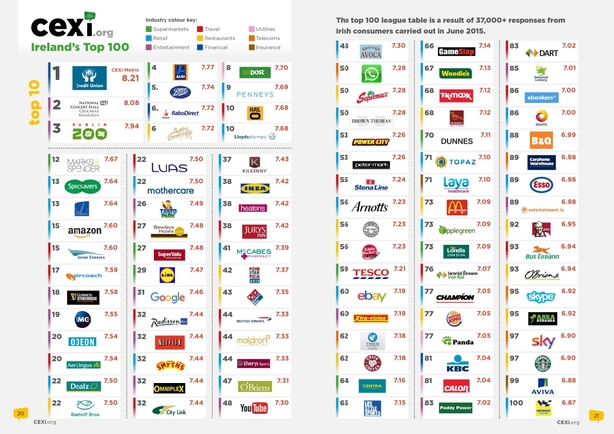 "If the survey was focused solely on price this wouldn't be a surprise but they scored well across several customer experience categories including quality of service and empathy. So being cheap and cheerful does not mean you can't also deliver great customer experience and that is a great lesson for everyone in retail," he stated.
But the utility companies scored poorly in the survey - in line with their peers internationally. While An Post made the top 10 - due to its valuable social role - Irish Water failed to make the top 100 and came last in the survey.
The weak performance of the banking and financial sector came as no surprise after the economic climate of recent years, Mr O'Neill also pointed out.