The boards of Paddy Power and Betfair have reached agreement on the terms of a recommended £6 billion all-share merger of the two companies. 
The merged entity, details of which were first announced last month, will be called Paddy Power Betfair and will be one of the world's largest public online betting and gaming companies. 
The merger will result in Paddy Power shareholders owning 52% of Paddy Power Betfair and Betfair Shareholders owning 48% of Paddy Power Betfair on a fully diluted basis.
Paddy Power shareholders will receive a special dividend of €80m just before the deal closes.
Shareholders are expected to vote on the deal in December, with the merger due to complete in the first quarter of 2016.
In a statement today, the companies said that Paddy Power Betfair will be headquartered in Dublin and is expected to maintain a significant presence in both Ireland and the UK. 
When the deal is complete, Breon Corcoran, who is currently CEO of Betfair, will become CEO and an executive director of Paddy Power Betfair.
Paddy Power's current CEO Andy McCue will  be become the company's COO and an executive director of the merged firm.
Gary McGann, chairman of Paddy Power, will become the chairman of Paddy Power Betfair, while Alex Gersh, CFO of Betfair, will become CFO and an executive director of the new entity. 
"The merger of Paddy Power and Betfair will create a company of world class capability and people who will deliver substantial up-front synergies and a platform for very exciting business expansion," commented Paddy Power's chairman Gary McGann. 
"The combination of Breon, Andy and their colleagues in this merger of equals comprises "the A team" in the business with the ambition to create a unique global player in a very dynamic industry," he added.
Paddy Power Betfair will have combined annual revenues of more than £1.1 billion.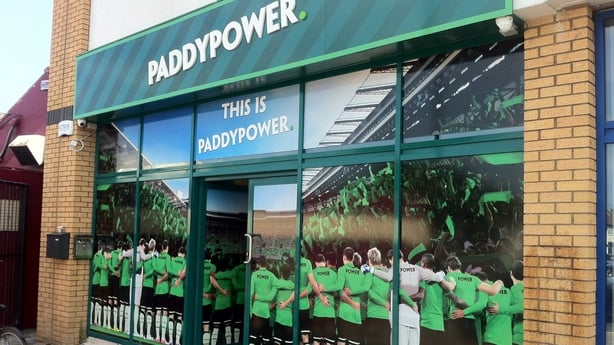 The deal will bring together Paddy Power's 336 shops in the UK and 252 stores in Ireland with Betfair's online betting exchange. 
Around 80% of their combined annual revenues will be from online business, making it a force to be reckoned with in the gambling sector as it increasingly moves online.
But the firms today also warned of job losses under plans for around £50m in annual cost savings after the merger. 
They said while no decisions have been taken, there was potential for cutbacks in some operational and support functions, which "may involve some headcount reduction".
The newly merged group will have customers from more than 100 countries, with aims for further international expansion across continental Europe, the US and Australia. 
Paddy Power was founded in 1988 by the merger of three existing Irish bookmakers and it has become well known for its irreverent marketing style. 
Its rapid growth in recent years has seen it build more than 300 betting shops in Ireland and the UK, and it now ranks as the third largest online bookmaker and sixth largest online gaming business in Britain and Ireland. 
Betfair comes from a newer side of the bookmaking fence. In 1999, professional gambler Andrew Black and city professional Edward Wray joined forces to form The Sporting Exchange, which went on to launch the Betfair Betting Exchange the following year, offering the market something of a revolution. 
Its first market was the Epsom Oaks in 2000, but the new approach to gambling quickly took off by giving punters the chance to take bets and subsequently bet in play. Betfair floated on the London stock exchange in 2010.
The merger of two big players in the sector comes after rival bookmaker Ladbrokes unveiled plans in July to merge with Gala Coral in a £2.3 billion.