Activity in China's factory sector shrank at its fastest rate in at least three years in August as domestic and export orders tumbled.
The latest falls increased investors' fears that the world's second-largest economy may be lurching toward a hard landing. 
Even more worrying, China's services sector, which has been one of the lone bright spots in the sputtering economy, also showed signs of cooling, a similar business survey said. 
Hurt by soft demand, overcapacity and falling investment, the economy has also been buffeted by plunging shares and a shock yuan devaluation.
News of deteriorating business conditions set off fresh selling in Chinese shares, with the blue-chip CSI300 index tumbling 4% at one point, dragging down stocks across Asia.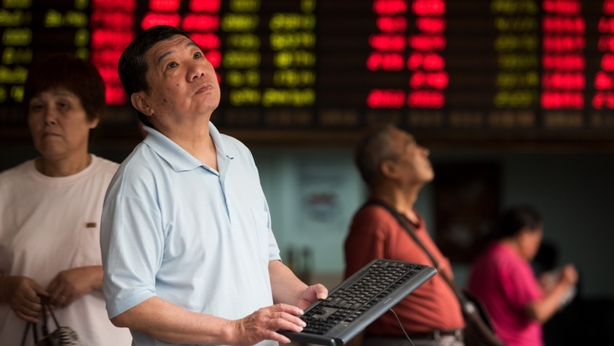 Analysts said the bleak readings affirmed bets that China, which has cut interest rates five times since November, must loosen policy again soon to avert a sharper economic downturn that could weigh on global growth even as the US Federal Reserve prepares to raise interest rates. 
China's official manufacturing Purchasing Managers' Index (PMI) fell to 49.7 in August from 50 in July, the National Bureau of Statistics said today. 
That was in line with a Reuters poll but the lowest since August 2012, and below the 50-point mark separating growth from contraction. 
New orders fell to 49.7 in August from July's 49.9. New export orders contracted for an 11th month in a row. 
A private survey by Caixin/Markit focusing on smaller factories pointed to an even sharper cooldown, with the PMI dropping to 47.3, the worst reading since March 2009. 
Both surveys showed manufacturers were laying off workers at a faster rate as their order books shrank. 
The closure of factories in northern China to clear Beijing's skies for a huge military parade this week likely also hurt output, as did a giant blast in the port city of Tianjin.
China's services companies are also showing clear signs of fatigue, to the point where growth in that sector may no longer be enough to offset persistent factory weakness. 
The official services reading cooled slightly to 53.4, while remaining well in expansion territory, but the private survey PMI fell sharply to 51.5, its lowest level since July 2014. 
That dragged a composite PMI combining factory and services readings to below 50 for the first time since April 2014. 
In another sign that economic weakness was spreading to the services sector, the Caixin/Markit services PMI showed the labour market deteriorated for the 22nd month in a row in August. Employment in the services sector fell to 50.1, barely remaining in expansionary territory. 
A flurry of earnings reports from top Chinese banks in the past week showed they were struggling with the slowest profit growth in at least six years and a jump in bad loans, and the slump in stock markets in recent weeks is likely to reduce contributions from the financial sector in coming months. 
Chinese authorities have launched their most aggressive policy loosening campaign since the 2008/09 global financial crisis to try to put a floor beneath sagging growth. 
But the effectiveness of more monetary policy easing has been called into question, with some warning of a "liquidity trap" if China continues to pour cash into a system where the last thing struggling companies want is to take on more debt. 
The last time China slashed interest rates was on August 25, when it also lowered the amount of reserves banks must hold for the second time in two months.