The volume of retail sales rose by almost 10% in July when compared to the previous year, according to figures from the Central Statistics Office, with the value of such sales up 6.5%.
Motor sales led the rise during the month, with volumes increasing by 18.6% year-on-year, while their value was also higher, up 15.9% on July 2014.
However sales were higher even when motor sales were excluded, with volumes up 6.6% and values up 3.3%
Sales of electrical goods were up 14.4%, while furniture and lighting sales gained 13.8% over the same month of last year.
Meanwhile bar sales gained 11.3%, with clothing, footwear and textile sales increasing by 10.4% year-on-year.
The only category to see a decrease in sales when compared to the previous year was food, beverages and tobacco, which fell 1.9% in volume terms and 3.9% in value.
The value of fuel sales was also down on July 2014 due to a drop in oil prices, though the volume of such sales was higher.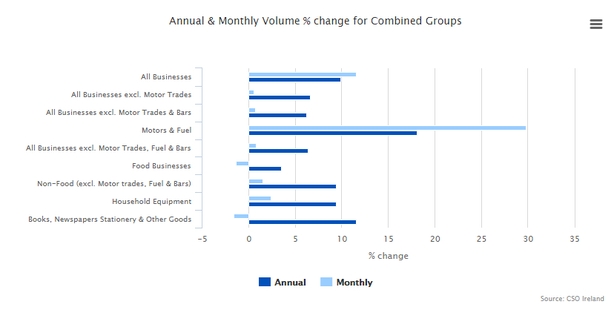 Commenting on the figures, economist with Merrion Stockbrokers Alan McQuaid said they were very strong and much better than we expected.
Mr McQuaid said: "Although retail sales remain erratic on a monthly basis, the underlying trend is positive.
"While most attention has been on cars, personal spending in other areas is picking up too and is becoming more broad-based. This can only be good news for retailers and employment prospects in the sector," he added.
Meanwhile, ISME has drawn attention to what it said was the continuing pressure on margins and the increase in business costs in the CSO figures.
ISME CEO Mark Fielding said this is crippling the sector: "Irish consumers are holding back a certain amount of spend. However, they are willing to buy when they can see value. Unfortunately for our retailers, that means more sales at higher costs leading to lower profit margins."
Retail sales continue to recover in July, budget an opportunity to cement recovery - Retail Ireland 

Retail Ireland, the Ibec group that representing the retail sector, welcomed the increase in retail sales in July.
Retail Ireland Director Thomas Burke said: "Overall the performance of the retail sector during July has been positive. It's crucial that this momentum is not lost.
"Government has the perfect opportunity in the upcoming Budget to cement the recovery by reducing income tax and putting more money back into the economy."