The net worth of Irish households has increased, while the level of private sector debt has declined, according to Q1 financial accounts released by the Central Bank.
Household net worth (the sum of household housing and financial assets minus their liabilities) continued to increase during Q1, albeit by a lesser extent than in previous quarters. Net worth rose by 2.2% over the quarter, to reach €595.7bn or €129,238 per capita.
Meanwhile, household debt continued to decline between January and March, falling to €154.6bn or €33,530 per capita. This represents a decrease of 2.3% or €3.7bn - the largest decline in debt since Q2 2010.
Despite this, household debt in Ireland remains high relative to other countries. Only Denmark and the Netherlands had higher household debt relative to disposable income during the first three months of the year.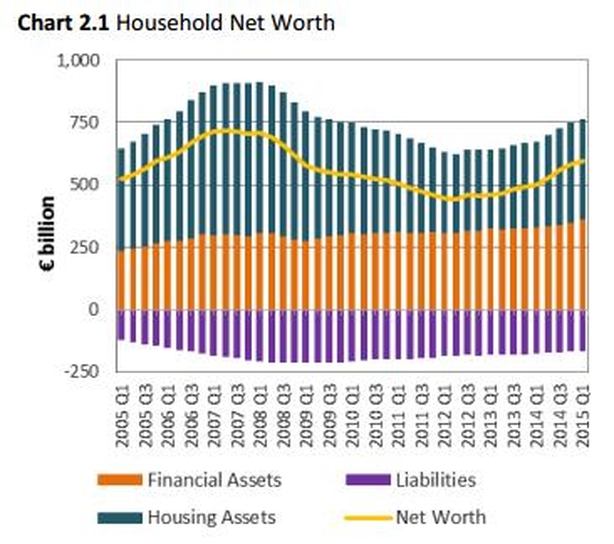 The latest Quarterly Financial Accounts, covering the first three months of 2015, present a complete set of data for all resident institutional sectors in Ireland.
This includes comprehensive information on the economic activities of households, non-financial corporations, financial corporations and Government.
Non-financial corporation (NFC) debt as a percentage of GDP fell from 205% in Q4 2014 to 194% in Q1 2015. The decline reflects an increase in the value of annualised GDP, as well as a €10.4bn fall in the stock of NFC debt.
The Central Bank accounts also show the level of private sector debt dropped between January and March, falling by 15.2% to 273.4% of GDP.
This is attributed to both a decrease in private sector debt of €14.1bn, combined with an increase in annualised GDP of €5.3bn. A reduction of €10.4bn in NFC debt was the largest contributor to the decline in private sector debt during the first quarter.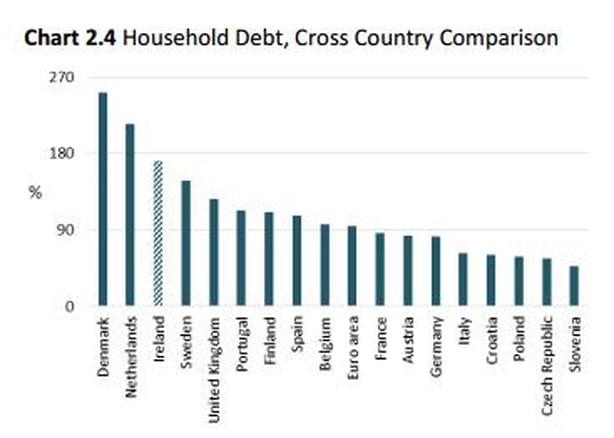 This level is significantly higher than the EU Commission's recommended threshold for private sector debt sustainability, which stands at 160% of GDP.
However, this threshold does not take account of the large Multinational Corporate sector in Ireland.