By Will Goodbody, Science & Technology Correspondent
If first impressions count when buying a smartphone, then the Huawei P8 will likely do well. Because without doubt it comes in the coolest retail box a mobile has ever been sold in!
Reportedly it's supposed to resemble a library. Not sure about that. But it certainly sets the right tone for a product which is meant to be at the premium end of the market.
Slide the P8 out of that box and you are immediately struck by how attractive looking a device it is. Huawei says it takes 810 minutes to craft the 6.4mm thin metal frame from a single block of aluminium. The result is a sleek, sophisticated appearing blend of metal and glass, weighing in at a respectably light 144g.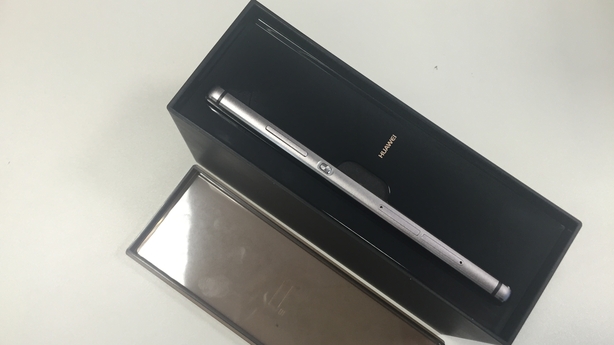 There's just two buttons on the outside – one for power and the other a volume rocker. There's nano-SIM card and microSD card trays (which can also be used for a second nano- SIM) on the side, as well as the usual headset jack on the top and micro USB socket on the bottom.
The display is a 5.2 inch FHD 1080p screen – a little surprising given that the premium market is moving quickly towards QHD screens as standard. Nevertheless, a number of competitors like the HTC One M9 and the Sony Xperia Z3+ have also stuck with FHD, meaning it is not on its own. And in reality, most users will find the P8's display perfectly good – very good even. It's sharp, colours are vivid and deep, and viewing angles are good. The only quibble I had was that I found the touchscreen to be not always 100% responsive – though that could be down more to me than it.
Inside it is powered by Huawei's own Hisilicon Kirin 930, octa-core 64bit 2.0GHz processor and comes with 3GB of RAM. That, combined with the overall core management, leads to a respectable mid-tier but not stellar performance, with a little lag at times.
The basic handset comes with 16GB of memory, which when you take into account that 6GB is already in use for the operating system seems pretty small in this day and age. However, that can be expanded using the microSD card slot.
The 2680mAh battery should last the day with reasonable levels of use, but there is a number of other lower power setting options if it is running low. There is no wireless charging however, nor is the P8 waterproof.
The device runs Android 5.0 Lollipop, with Huawei's Emotion UI on top. Many of those tailored features are strikingly similar to Apple's iOS, including the app folders and camera app. The interface isn't without its critics, and arguably in some aspects Huawei might have been better advised to stick closer to the core Android offering.
There are some interesting additions, however. Like double-tapping with a knuckle which leads to a full-length screen capture. While drawing a circle on the screen with a knuckle allows you to capture, crop and share particular content. There's also a Phone Manager app, for examples, with "Harassment Filter" and "Phone Accelerator" functions built in.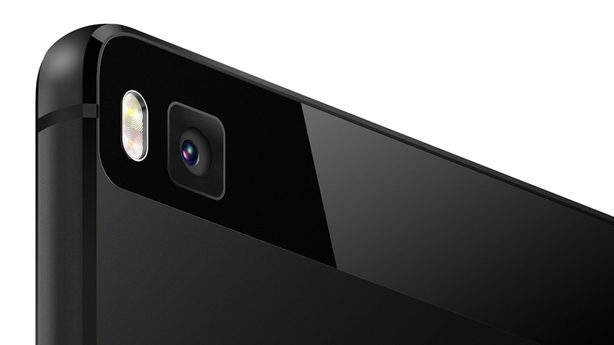 Perhaps the P8's forte though is its camera. The 13MP rear camera boasts a DSLR-level Image Signal Processor which makes for sharp pictures in low light and the world's first four-colour RGBW sensor which allows you to adjust the brightness depending on the environment.
There's also the usual range of gimmicky modes, including "Director Mode" where three P8's on the same wifi network can record the same scene from three angles, while cutting between the cameras. And "Light Painting" where moving light can be captured in the artiest of ways! Video recording and playback is 1080p and the front facing selfie camera is 8MP. All round the camera offering is close to being, if not actually the best in the market.
Other selling points include a 90% reduction in wind sound when using the headset provided and what Huawei claims is new technology to improve phone and data connectivity.
It all amounts to the P8 being a strong contender in the high-end smartphone market . There are some aspects which leave it trailing competitors like the Apple iPhone 6, Sony Xperia Z3+ and the Samsung Galaxy S6. But for some time Huawei has been trying to convince people that it has the offerings to compete with the big boys. And the P8 is by far its best effort yet.