2,308 commercial and consumer debt judgments were awarded by the courts in the first six months of 2015, with a total value of around €220m.
The figures have risen by roughly one third, when compared with the same period in 2014.
The average value of the judgments was €95,333, compared to an average value of €74,818 last year.
Business and credit risk analysts Vision-net.ie have compiled these latest figures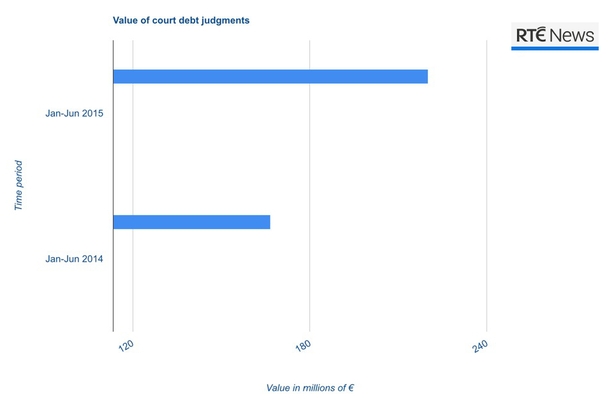 1,692 debt judgments with a value of €202.8m were awarded against consumers, representing rise of 41% on the same period last year.
The highest number of consumer judgments by value was awarded to the banking sector, with 185 judgments valued at €148.84m.
The largest number of judgments by volume was awarded to the Revenue Commissioners, comprising 888 or 52% of all consumer judgments.
Commercial judgments dropped slightly for the first half of the year, with 616 cases. The value of commercial judgments dropped by 25%, with €17.2m awarded.
The average value of these judgments was €27,911, a decrease of 23% on 2014 figures.