Senior EU officials have formally discussed for the first time a possible Greek debt default as negotiations between Athens and its creditors have stalled ahead of an end-month repayment deadline, several officials have told Reuters news agency.
The government representatives, preparing next week's Eurogroup meeting of euro zone finance ministers, concluded at talks in Bratislava last night that there were three possible scenarios for what would happen with Greece at the end of June.
The least likely, they think, is a successful cash-for-reform deal next week in time to meet end-June legal deadlines.
The second possibility was a further extension of the current bailout programme, which expires this month at the same time as Greece must repay €1.6bn to the IMF.
The third - discussed formally for the first time at such a senior level in the EU - was to accept Greece could default.
The meeting reached no decision or concrete conclusion.
Most officials argued that it was unlikely creditors would strike a deal on reforms with Athens in time to disburse the €7.2bn that remains available to Greece under a rescue programme extended in February for four months.
"It would require progress in a matter of days that has not been possible in weeks. The reaction of the ECB, the IMF and several member states was extremely sceptical," one official familiar with the discussions said.
Greece has said it is ready to make "counter-proposals" on a deal to unlock vital bailout funds.
A government statement said representatives of Prime Minister Alexis Tsipras would make the proposals tomorrow in Brussels.
Meanwhile, the European Commission President said that stalled debt talks between Athens and its creditors would restart but put the ball firmly in the Greek government's court to come up with an acceptable deal.
Jean-Claude Juncker spoke after the International Monetary Fund quit negotiations in Brussels yesterday.
The European Union leader bluntly told Athens to stop "gambling" with its future.
Time is fast running out for Greece to strike a cash-for-reforms deal with its creditors and stave off a default at the end of June that could see it tumbling out of the euro zone.
But Prime Minister Alexis Tsipras is showing no signs of alarm.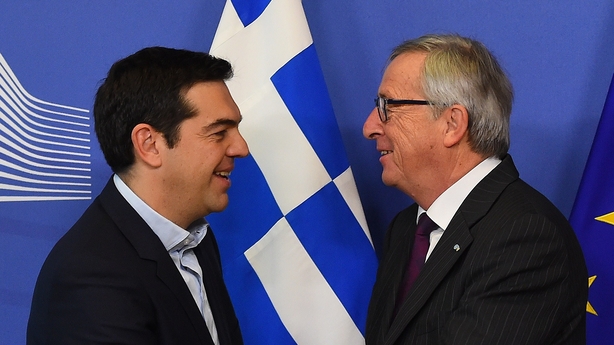 His first engagement after rushing home from Brussels last night was an open air concert celebrating the revival of the ERT state TV station, closed exactly two years ago under cuts ordered by the country's EU and IMF lenders.
Both sides tried to keep hope alive today. A senior minister and close adviser to Tsipras said he hoped for a deal on June 18, at a meeting of euro zone finance ministers.
Mr Juncker also stressed the process was not yet over. "Negotiations will start again, first at a technical level, then a political one," he told French radio. "A deal is necessary in the coming days," adding: "The ball is in the Greek court."
Greece needs a deal to unlock aid or loosen curbs on how much it can borrow in short term debt before a €1.6 billion repayment to the IMF falls due by the end of this month.
Renewed uncertainty sent Greece's top share index down 4% this morning.
The German tabloid Bild reported that the German government was holding "concrete consultations", including about introducing capital controls restricting bank withdrawals in Greece and transfers abroad should the country go bust.
Tsipras faces major problems in meeting the promises he made before his election in January.
He has vowed to end the waves of austerity imposed by previous governments at the lenders' behest. But he also needs to keep the country in the euro zone - a poll this week showed an overwhelming 77.4% favoured keeping the euro.
But the creditors are demanding yet more austerity and refusing to release any aid until Athens backs down, raising the risk of default and a euro zone exit.
Major sticking points in the talks remain. Athens has balked at measures such as curbing pension benefits and raising value-added tax, and pressed lenders for more help to attempt to reduce the debt burden. Its own delegation also flew home from Brussels yesterday.
For a deal to work, EU officials said Tsipras's government needed to come up with new savings and tax measures to replace those that Athens finds unacceptable.
People familiar with the talks said the two sides have come closer to agreeing a primary surplus target but cannot agree on how to achieve it.
Juncker said he had given Tsipras a set of propositions in discussions yesterday evening, but it was not immediately clear how Greece would respond, or whether it would send counter proposals to take the talks forward.