Vodafone said today it was in talks with cable company Liberty Global regarding an exchange of "selected assets".
But it said it was not discussing a full-blown merger, a combination which has been the subject of long-running speculation.
The world's second-biggest mobile operator has long been linked with a purchase or tie-up with Liberty, Europe's largest cable operator, as fixed and mobile telecom markets and networks converge.
"Vodafone is not in discussions with Liberty Global concerning a combination of the two companies," the company said in a statement responding to media speculation today.
Vodafone did not provide further details on which parts of their businesses in Europe could be involved in the deal.
"There is no certainty that any transaction will be agreed, nor is there certainty with respect to which assets will ultimately be involved," Vodafone said in its statement.
Vodafone's shares were down 2% this morning, but the shares are still trading up 7% since May 19 when renewed speculation about a combination began, after John Malone, the US "King of Cable" and chairman of Liberty, said that the two companies would make a "great fit".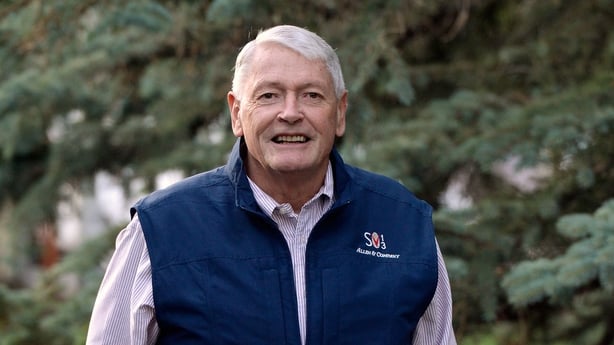 Liberty Global, which has operations in 12 European countries including Ireland, Britain, Germany and the Netherlands, has a market capitalisation of $46 billion, while Vodafone's is £66 billion.
When considering possible tie-ups between the two, analysts had suggested they could look at country by country deals such as in Britain, where Vodafone could partner with Liberty's Virgin Media.
An analyst who declined to be named said today that Vodafone could be willing to part with Vodafone Netherlands in exchange for buying Virgin Media with balancing cash.
Vodafone has 446 million mobile customers in countries ranging from Albania to Ireland, Qatar, India, South Africa and New Zealand.
It has lost ground to some rivals in an industry-wide trend to offer broadband internet, TV, home phone and mobile services in one bundled product, known as quad-play.
It has already bought fixed line and cable networks in Spain, Germany and Britain, with the higher-capacity network also helping to carry its mobile traffic.
For its part, Liberty has started to move towards mobile, recently buying an operator in Belgium, in a change of strategy after previously saying it did not need to own its own mobile operations, preferring instead to buy wholesale capacity from network operators.
In the UK, Virgin Media uses the EE network which owners Orange and Deutsche Telekom are in the process of selling to Virgin's arch rival, BT.