Facebook remains the most popular social network in Ireland, according to Ipsos MRBI's social networking quarterly, though the percentage of the population using the website has fallen.
The survey has shown that 60% of Irish people had Facebook accounts between March and May - down three percentage points on the quarter to February.
Engagement with the website was up slightly, however, with 72% of those account holders logging on every day - compared to 70% in the last survey.
While Facebook's reach fell slightly during the last quarter it is still by far the most popular social network in Ireland.
Twitter remains the second most popular social network in the country, with 26% of Irish people owning accounts. This is down two percentage points on the last survey.
Daily engagement is also weaker on Twitter, with just 35% of those users logging on every day.
Accounts on professional social network LinkedIn were held by 24% of those surveyed, unchanged on the last poll, while Google Plus was up slightly at 23%.
Facebook-owned photo sharing site Instagram was used by 18% of the population, according to Ipsos MRBI, with almost half of those logging on each day.
Meanwhile 5% of those surveyed said they had accounts with dating app Tinder and 15% were using Pinterest.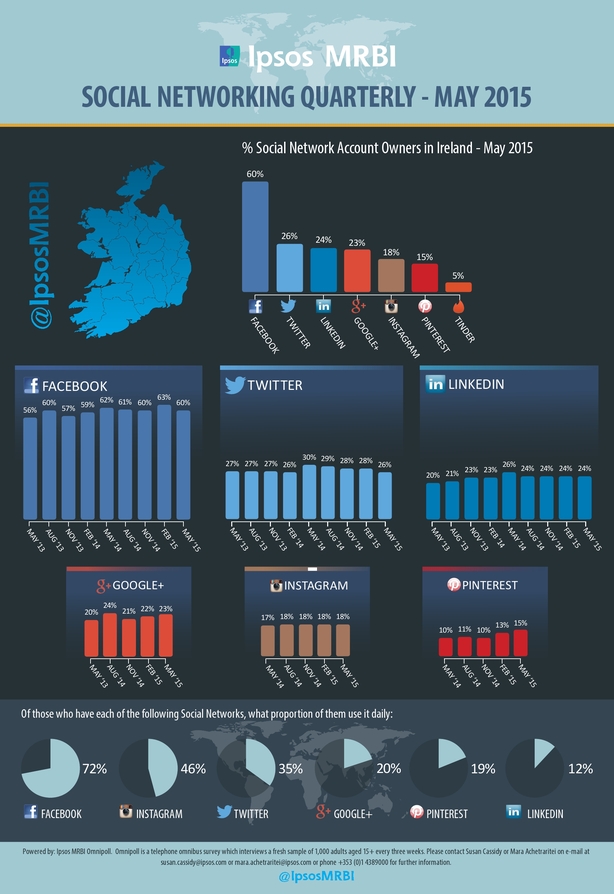 While Facebook has long been the most popular social network is also now tied as the most popular social messaging app, with its Facebook Messenger service being used by 43% of respondents - on a par with Microsoft's Skype.
Both of those saw their popularity fall in the period, however, with Skype down four percentage points and Facebook Messenger down three percentage points compared to February.
Facebook-owned Whatsapp is used by 37% of respondants - down one percentage point - while Viber fell seven percentage points in the quarter to 36%.
All of those services were well behind Snapchat in terms of daily usage, however.
The time-limited photo sharing app is used by 22% of respondents, but 63% of those log on on a daily basis - compared to 51% of Whatsapp users and 46% of those Facebook Messenger.