The European Central Bank has raised its forecast for inflation this year but said there were some signs of economic recovery losing momentum across the euro zone.
Data this week showed euro inflation turned positive in May and the closely-watched core rate jumped to 0.9%, signalling an end to the threat of deflation that prompted the ECB to begin printing money.
After leaving interest rates at a record low 0.05%, the ECB raised its inflation forecast to 0.3% for this year, having previously put it at zero, saying that its trillion-euro-plus asset buying programme was paying off but had to be seen through.
Inflation next year is seen at 1.5% and on growth, ECB staff kept forecasts unchanged at 1.5% this year and 1.9% in 2016.
"Inflation bottomed out at the beginning of the year," Mr Draghi said at a news conference following the ECB meeting. "The recovery is on track. However, we had expected stronger figures than our projections... There has been some modest loss of momentum."
The ECB chief said recovery was still expected to broaden through 2015 and threats to its duration had diminished.
Government bonds have sold off on the back of fledgling signs of inflation - amplifying a recent slide - while the euro soared yesterday for the same reason and hopes that an agreement will be snatched from the fire to prevent a Greek default.
It took a hit after Mr Draghi flagged signs of faltering growth.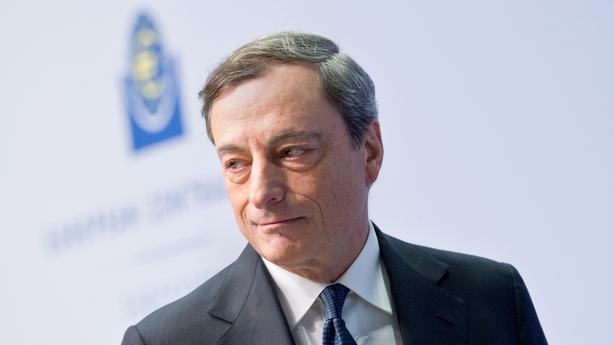 Mr Draghi repeated that lifting inflation towards its near 2% target depends on full implementation of the quantitative easing scheme, which is due to last until September 2016 and said the ECB would look through any market volatility.
With oil prices now rising and the impact of last year's dramatic fall dropping out of the equation by the end of 2015, price pressures should rise automatically.
"The risk of deflation is definitely gone, but inflation is unlikely to move back to 2% for the foreseeable future," UniCredit economist Marco Valli said.
Meanwhile Mr Draghi called for a "strong agreement" with Greece to ensure it stays in the euro zone and also has a sustainable economy.
Mr Draghi met Germany's Angela Merkel, France's Francois Hollande, IMF chief Christine Lagarde and European Commission President Jean-Claude Juncker in Berlin on Monday night for talks on how to proceed with Greece.
Mr Draghi would not comment on any decisions made at that meeting but said he and his ECB colleagues wanted to keep Greece in the euro.
"There should be a strong agreement and a strong agreement is one that produces growth, that has social fairness, but that is also fiscally sustainable and addresses the remaining sources or factors of financial instability in the financial sector," he said. "These would be the components of a strong agreement."
Greek Prime Minister Alexis Tsipras visits Brussels later in the day to see senior European officials, where he is expected to hear the terms of the plan drawn up this week at a meeting of top leaders and put forward his own blueprint, which is believed to reject further austerity.
Athens urged its lenders to accept what it called a comprehensive reform proposal but euro zone officials have already said the Greek text was insufficient.
Greece has a €300m payment to the IMF due on Friday and a series of bigger obligations later in the month, which it is unlikely to manage without aid.