Greece's economy shrank 0.2% in the first quarter of this year, the country's statistics service said today, confirming a preliminary estimate earlier in the month. 
The data showed that the economy slipped back into recession as political turmoil put the brakes on a fragile recovery. 
Greece's economy emerged from a six-year recession last year, but has struggled in recent months as political turbulence returned towards the end of last year, triggering early elections that brought the anti-austerity leftists to power. 
The contraction between the three months from January to March, based on the second reading of seasonally adjusted data, followed a 0.4% decline in the final quarter of last year.
Year-on-year, seasonally adjusted GDP grew 0.4%, with the final reading revised up from a previous estimate of 0.3%. 
But that represented a slowing from a 1.3% annual growth rate in the fourth quarter of 2014.
Greece mixes messages on expectations for deal
Meanwhile, Greece said today that the deadline for reaching an accord to release much-needed bailout funds was the end of June, despite officials raising hopes of a deal being imminent as it flirts with the possibility of a default.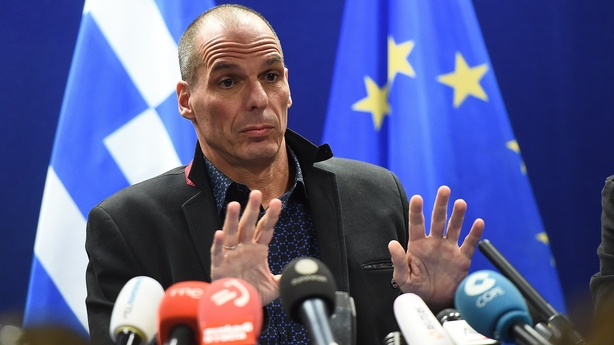 Finance Minister Yanis Varoufakis told Greek radio that under a February agreement "the country's aid programme was prolonged until June 30, thus that it is the date by which we need to arrive at a deal." 
After four months of negotiating to unlock some €7.2 billion in bailout cash with creditors - the International Monetary Fund, the European Union and the European Central Bank, Athens' coffers are near empty. 
The Greek government under Prime Minister Alexis Tsipras has consistently stressed the urgent need for a deal, with Interior Minister Nikos Voutsis  warning last week that Athens had "no money" to make a series of repayments to the IMF that are due beginning June 5, totalling €1.6 billion.
If Varoufakis sees the end of June as the ultimate deadline for a deal, this would offer Athens and its creditors a longer timeframe to conclude their talks. 
With fears that a payment default could trigger a chain of events that could result in a messy exit from the euro, Greek officials have in recent days signalled they are hopeful a deal could be reached by Sunday, although its creditors are more sceptical.
The EU Commissioner for Economic and Monetary Affairs, Pierre Moscovici said yesterday that a deal was "possible" but a great deal of work still needed to be done.
Varoufakis also said a deal was close, but did not mention that it could be reached over the weekend.
"We are close to concluding the negotiations, there will be an agreement soon," he said, adding there was a consensus "on the majority of questions."
Tsipras's radical left Syriza party swept to power in January on an anti-austerity platform, and has been reluctant to sign up to more tax hikes and spending cuts that the creditors have been demanding in exchange of bailout loans. 
Varoufakis lashed out at the EU and IMF for insisting on austerity policies "that are disastrous for the Greek economy" and Europe.
He said the deal would include reforms on the labour market, social benefits and public debt.