Minister for Finance Michael Noonan has said the country's six main mortgage lenders have agreed to reduce payments for variable rate holders by 1 July.
It comes after a series of meetings this week between the minister and bank executives.
If the banks do not comply, they face what he called a severe penal levy or the prospect of the Central Bank setting rates.
It is good news for many of the 300,000 variable rate borrowers after a public battle between the minister and the banks.
Mr Noonan said the reduction in payments would be achieved by either variable rate cuts or by offering customers to move to better fixed rates.
He would not be drawn on what scale of rate cut he would favour, as he said there are competition issues.
He said he also expected banks to roll out publicity campaigns to highlight the changes.
The move would apply to AIB, Bank of Ireland, ACC, Ulster Bank, Permanent TSB and KBC.
For customers with Danske Bank and Nationwide which is now IBRC, he said the result would be they could move to better competitors.
Negative equity customers will also be allowed to move from variable to fixed-rate or other products.
He said AIB had already agreed to cut its standard variable rate.
In response to Minister Noonan's announcement, AIB has said its second recently announced cut to mortgage interest rates will come into full effect for new and existing customers from 2 June.
A spokesperson for Ulster Bank said they had a constructive meeting with the minister and outlined their current mortgage campaign and recent rate cuts available to existing and new customers.
In a statement, Bank of Ireland described yesterday's meeting as being "constructive and professional".
ACC, Permanent TSB and KBC have no comment to make.
Meanwhile, the Central Bank has warned that measures to force banks to lower variable rates could create damaging side effects and hinder the long-term prospects of banks.
Opposition says more competition needed
Sinn Féin TD Pearse Doherty decribed the announcement for variable rate mortgage holders as "minimal".
He said people will be given cheaper rates or the option of moving to cheaper fixed rat products which he said was welcome but was not enough.
He said more competition was needed.
Fianna Fáil Michael McGrath said a substantial rate cut must follow of at least 1% as the rates being charged on some mortgages were indefensible.
Central Bank warns against forced rate cuts
In a report published this morning, the Central Bank said rates are higher than necessary due to low levels of competition, legacy issues and the drag of tracker mortgages.
The report says the spread between official ECB rates and the standard variable rate is relatively high and lending rates are above average compared to European banks.
It says a range of economic and financial factors are contributing to higher rates including competition, credit risk and profitability considerations.
It says credit risk remains elevated due to household and corporate sector vulnerabilities and the stage of economic recovery.
Although it acknowledges competition in the mortgage rate sector is poor, it says as long as the potential for competition exists, the scope for profits is limited over the longer run.
It says the banking sector is different from other sectors and references political pressures on banks.
The bank says the debate regarding lending rates needs to be well informed and that the full range of factors affecting these rates are taken into consideration.
Minister of State at the Department of Finance Simon Harris has said standard variable rate mortgage holders who are in negative equity and were unable to switch mortgage products will be able to do so in new measures due to be announced. 
He said this "cohort" of SVR holders were in a particularly vulnerable position. 
Mr Harris also said he expects banks to make progress between now and July and a "variety of products" would be offered. 
He refused to be drawn on how big a cut would be, but he said that by July customers on standard variable rates could avail of the option of a cheaper mortgage repayment. 
Earlier today, Fianna Fáil Finance Spokesperson Michael McGrath said a 0.25% cut by the banks of Standard Variable Mortgage rates would be a fig leaf and a capitulation.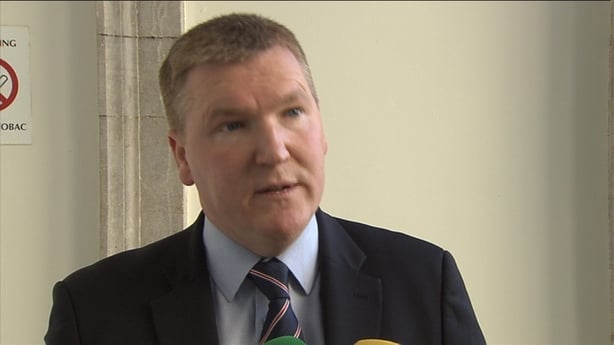 Mr McGrath was speaking ahead of the publication of the Central Bank report.
In relation to a possible rate cut of 0.25%, Mr McGrath said: "That in my view would not be a victory, that would be a capitulation and would really be a fig leaf, and a sop, to mortgage holders.
"The suggestion that people can transfer to a fixed rate - that option is already there."
He said a customer might move from a variable rate to a fixed rate and be penalised again if the variable rate was to move down.
Mr McGrath highlighted that the European average of mortgage rates was 2.1%. He said banks have returned to profitability and there was not a "mad rush" to sell stakes in the banks.
He said the banks in Ireland are charging "indefensible" rates compared to other European countries and claims nobody has given an explanation as to why this was the case.