Retailer Marks & Spencer posted its first rise in annual profit in four years and said it would return excess cash to shareholders, fuelling hopes that it has finally rediscovered a successful formula.
Britain's biggest clothing retailer, which also sells homewares and upmarket food, said today it made a profit before tax and one-off items of £661.2m in the year to March 28.
That compares with analyst forecasts of £625-664m, with a consensus of £648m, and is 6.1% higher than the £623m made in 2013-14.
M&S raised its dividend 5.9% to 18 pence and announced the start of an ongoing programme of enhanced returns for shareholders with a share buyback of £150m for the 2015-16 year.
"We are a more capable business following a sustained period of investment in our infrastructure and in our people," the company's chairman Robert Swannell said.
M&S said today that the restructuring of its Irish business had resulted in improved profitability in its Irish stores.
Shares in M&S have risen by a third over the last nine months, hitting an eight-year high yesterday.
The increase reflects hopes that the billions of pounds spent by chief executive Marc Bolland on the redesign of products, stores, supply chain logistics and its website is paying off and addressing decades of under-investment in the 131-year-old firm.
Bolland, in the job since 2010, has focused on boosting profit margins. He delivered a rise in the 2014-15 gross margin for general merchandise - spanning clothing, footwear and homewares - of 190 basis points.
That was a reward for having sourced more goods directly from suppliers, spending less on promotions and concentrating more on full-price sales.
The food gross margin rose 30 basis points.
M&S said today it expected further progress in the 2015-16 year, guiding to gross margin growth of 150-200 basis points in general merchandise and up to 10 basis points in food.
Meanwhile, M&S boss Marc Bolland has urged Britain to wait and see whether Europe can deliver hoped-for reforms before deciding whether to leave the EU.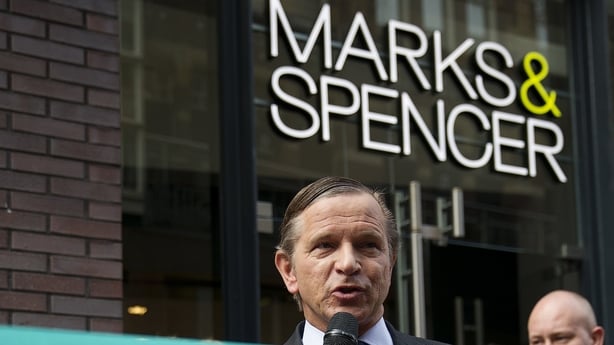 The Dutchman is co-author of a key report for the UK government on cutting Brussels red tape.
He said Europe was "very important for M&S" with the retailer operating more than 100 stores there.
"On a personal note, I feel some of those reforms can be done and should be done, and it is the best judgment call for Britain to wait to see what the reforms are before taking a point of view," he stated.
The comments come after JCB boss Lord Bamford backed the idea of the UK leaving the EU, saying the country could exist "peacefully and sensibly" on its own.
British Prime Minister David Cameron has pledged to hold an in/out referendum on membership by the end of 2017.