Vodafone Ireland has said its revenues for the year to the end of March fell by 2.6% to €935.8m on the back of increased competition and a fall in inter-operator revenues.
These were partly offset by an increase in contract subscriptions of 4.7% and lower levels of people leaving the Vodafone service.
Its enterprise revenues rose by 4% year-on-year, on the back of new contracts with a number of big companies, including Ryanair.
The company's total Irish customer base stood at 2.3 million at the end of March, of which 2 million were mobile customers.
Its fixed-line and broadband customer base grew by 25,700 year on year to 282,300 - an increase of 10%.
It noted that customers with smartphones increased by 127,800 year-on-year to 1.3 million and mobile data increased by 77% in the twelve month period.
"In a highly competitive market, our performance demonstrates a continued improvement in trends during the year proving the effectiveness of our strategy which is to become the total communications provider of choice in the Irish market," commented the company's chief executive Anne O'Leary.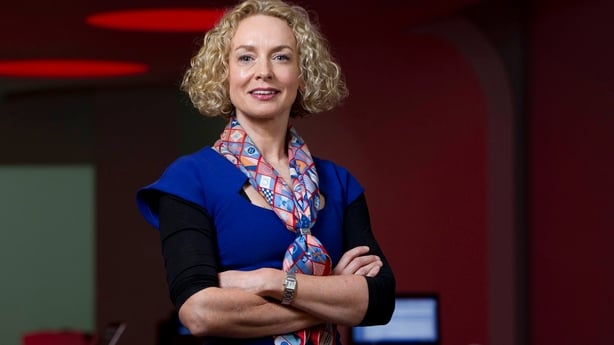 Meanwhile, the Vodafone group has posted a rise in quarterly sales for the first time in nearly three years today in the clearest sign yet that Europe's mobile market is edging towards recovery.
The world's second largest mobile operator has been hit hard by the constraints on consumer spending in its big European markets and by regulator-imposed price cuts.
But it finally forecast 2016 core earnings growth on an organic basis following seven years of declines in a row.
The full-year results follow updates from the likes of Telefonica and Deutsche Telekom which also showed signs of gradual, if slow, improvement.
Vodafone, which has 446 million mobile customers in countries ranging from Ireland to Albania, Qatar, India, South Africa and New Zealand, saw small improvements in Italy, Spain and Portugal while its biggest market Germany remained weak because mobile phone bills there fell.
"We have seen increasing signs of stabilisation in many of our European markets, supported by improvements in our commercial execution and very strong demand for data," chief executive Vittorio Colao said.
Analysts believe the European mobile market is set to stabilise in 2015 and 2016 and should return to top-line growth after that, helped by demand for the more expensive fixed-line fibre services and superfast 4G mobile connections.
They believe Vodafone should be well placed to reap the rewards after it embarked on a programme to bolster its mobile speeds and either build or buy superfast fixed-line broadband networks.
"We have significant opportunities ahead of us, with only 13% of our European mobile customers using 4G, and our market share in fixed services only a fraction of our share in mobile," it said.
Vodafone reported a rise in fourth-quarter organic service revenue of 0.1%, which followed 10 quarters of declines.
It also forecast a range for 2015-16 core earnings of £11.5 billion to £12 billion, which would indicate core organic earnings growth. The group said it also intended to grow its dividends per share annually after a 2% rise.