New figures from the Central Statistics Office show that the value of exports jumped by 21% to €9.065 billion in March compared to the same time last year - the highest value since May 2002.  
The main driver behind the big increase was growth in the level of exports of medical and pharmaceutical products, which soared by 58% to just over €1 billion.
The EU accounted for 56% of total exports in March, of which 13% went to the UK. The US was the main non-EU destination for Irish exports, accounting for 23% during the month. 
Today's figures also reveal that the value of imports for March rose by 14% to €5.476 billion compared to March 2014, which the CSO said was the highest level since November 2007.
During the month, imports of medical and pharmaceutical products increased by 53% to €569m while the import of miscellaneous manufacturing articles rose by 27% to €687m.
The CSO said the EU accounted for 57% of imports, while the US at 13% and China at 7% were the moan non-EU sources.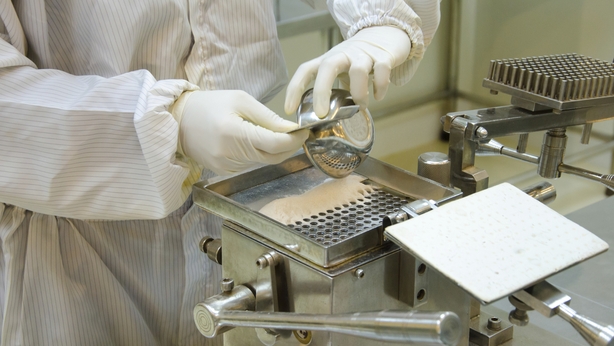 Meanwhile, preliminary figures from the CSO also showed that seasonally adjusted exports fell by 2% to €8.366 billion in March compared to February.
The month saw an increase in seasonally adjusted imports for March, up 4%, which resulted in a seasonally adjusted trade surplus of €3.425 billion. This represented a 10% decrease on February.
For the first three months of the year, exports rose by 17% to €24.958 billion, while imports increased by 10% to €14.819 billion compared to the same time in 2014.
Commenting on today's trade figures, Investec economist Philip O'Sullivan said their underlying narrative is one of broad based growth in exports, propelled by favourable currency moves and the improved economic performance of a number of Ireland's key trading partners. 
"Elsewhere, the upturn in investment and personal consumption here has led to an increased appetite for imports. We expect to see more of the same in the months ahead," the economist added.
Merrion economist Alan McQuaid agreed that the weak euro is clearly beneficial for a huge exporting country like Ireland, as are the close trading ties with both the US and UK, two of the better performers on the global economic stage in 2014. 
Mr McQuaid said that competitiveness gains made against the rest of the euro zone in recent years have also helped Irish exporters. 
"As regards 2015, it will be difficult to increase and actually maintain market share in an ever-more competitive environment even with the benefit of a sharply weaker euro, though Irish exporters should continue to perform well on a relative basis," he added.