Santander has reported a 32% jump in first-quarter net profit, helped by improving earnings in Britain and Brazil as the euro zone's biggest bank makes a major push to increase lending.
The Spanish lender makes most of its money outside its home market.
Under new boss Ana Botin, the bank is trying to boost income by expanding credit and winning over clients, shifting away from a reliance on acquisitions.
Net lending across the group rose 8%, though it was still slightly down in its home market, the bank said today.
Domestic peers have also been struggling to ramp up their stock of credit despite an accelerating recovery, as subdued demand for loans and low interest rates weigh on their recovery from the financial crisis.
Santander weathered a property crash and recession at home with earnings overseas, however, and these are still propelling profits.

Net income grew in nine of its 10 core countries in the quarter from a year ago, with the exception of Chile.
Lower charges against bad debts helped profits jump about 41% in Brazil, a key unit facing potential headwinds from slowing economic growth.
In the UK, which also makes up about a fifth of group profit, net income in sterling rose 14%.
Santander, as a whole, posted net profit of €1.72 billion, in line with expectations. It said a weaker euro against the dollar and the pound had boosted earnings when converted into the euro zone currency.
Ana Botin, who took over as chairwoman from her late father Emilio last September, boosted capital levels with a €7.5 billion share sale in January to back its lending push.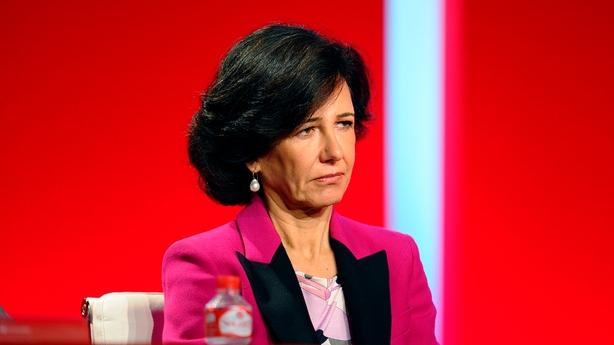 Some analysts said the bank's results were encouraging, especially as income from fees and loans grew, though stressed that the credit drive would keep eating up capital.
Core Tier 1 capital ratios, under stricter criteria which takes into account rules that must be met by 2019, stood at 9.7% at the end of March.
Santander said it was on track to meet targets for 2017. It aims for a return on tangible equity (ROTE), a measure of profitability, of 12-14%, and said ROTE stood at 11.5% at the end of March.