Permanent TSB has announced plans to offer shares to the public through an initial offering ahead of a listing on the main markets of the Dublin and London stock exchanges.
The initial public offering, or IPO, will see PTSB raise €400m through a share sale.
A further €125m will be raised through new borrowing.
The Government has already confirmed the State will not participate in the offering.
PTSB's statement to the stock exchange this morning makes it clear the State is also likely to sell down some of its 99.2% stake.
€400m of the €525m proceeds of this capital raising exercise will be used by PTSB to buy back €400m in convertible contingent capital notes from the State.
These are loans which carry an interest rate of 10% a year and is, in any event, due to be repaid in full next year.
The State pumped a total of €4bn into PTSB to rescue the bank. €1.3bn of that was recouped with the sale of Irish Life.
Permanent TSB's group CEO Jeremy Masding said that today represented another important step in the bank's journey.
"The proposed capital raise of 525m represents the first stage in returning PTSB to private ownership and we are greatly encouraged by the significant level of investor interest that we have seen to date," Mr Masding said.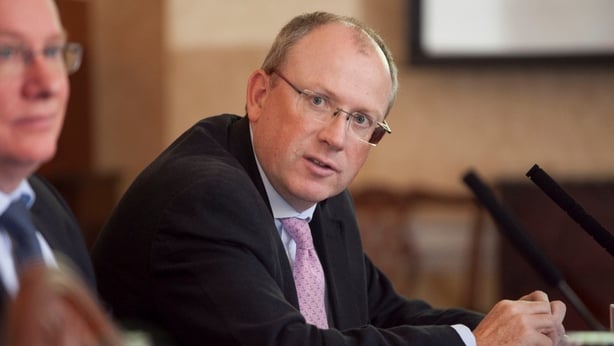 "We have made significant progress in transforming the bank which, following completion of our non-core deleveraging, will have an exclusive focus on Irish retail opportunities which we believe that we have the brand and scale to achieve our medium term targets," he added.
In a trading statement issued alongside the details of the capital raising plan, Permanent TSB said today that conditions have continued to improve during the first quarter of the year.
The lender said that new mortgage drawdowns are up 16%, while mortgage arrears are 37% lower than at the peak in August 2013.
It said it was seeing strong progress in managing arrears levels, adding that it was seeing lower levels of new defaults in the first quarter of 2015 compared to the same time last year. It expects this trend to continue into the second quarter of this year and beyond.
The bank also said it remains confident of achieving its previously announced Net Interest Margin target of 1.7% by 2018.
Progress towards this target will not be "linear", the bank cautioned.
It said it expects to deliver single digit basis point year on year improvements for 2015 with stronger improvements for next year as the full year benefits of the repayment of the contingent capital instrument materialise and as the retail deposit back book is re-priced toward market levels.