The Central Bank has improved its 2015 economic growth forecast on higher exports and consumer spending.
It said that gross domestic product would expand by 3.8% rather than the 3.7% forecast two months ago.
The economy has rebounded strongly since it exited an EU-IMF bailout in late 2013, and gross domestic product grew by 4.8% last year, the fastest expansion in the European Union. 
In its quarterly review of the economy, the Central Bank said it expected personal consumer expenditure to increase by 2.2% in 2015, while exports of goods and services will grow 5.7%. 
The bank also cut its forecast for unemployment at the end of 2015 to 9.8% from 10.4%. 
On inflation, the bank said that it is expected to pick up in the coming months, but added that the forecasts are "heavily influenced" by the prospects for oil prices and exchange rate developments. 
"The momentum of recovery in the Irish economy continues to build and broaden, with domestic demand now making a significant positive contribution to growth," the Central Bank said.
It noted that while the strength of net export growth was an important driver of GDP growth last year, the recovery in the economy has become more balanced over the past year. 
The continued strong increase in investment spending has been supported by the start of a recovery in consumer spending, the bank explained.
This has been boosted by continuing favourable labour market conditions - especially growth in employment - which is helping to raise people's incomes.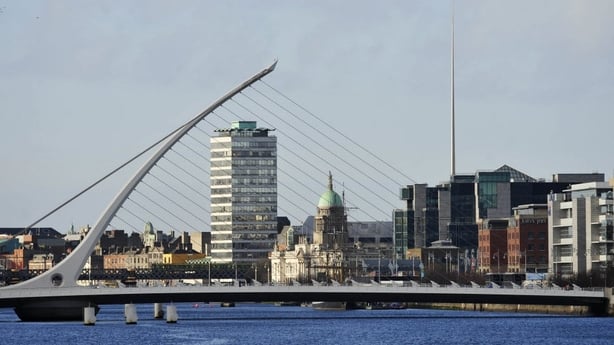 In its quarterly review, the Central Bank said the general government deficit for 2014 is on course to have fallen to about 4% of GDP - well below targets. The general government debt ratio also declined for the first time since 2007.
But the bank warned that with relatively strong economic growth predicted, it is important that the Government's fiscal stance does not exacerbate cyclical pressures. It said that steady progress towards the medium term objective of budget balance in structural terms would help ensure this.
On the banking sector, the Central Bank said that while major challenges remain, progress is being made, adding that the balance sheets of banks and their borrowers are gradually being repaired.
It noted that while the overall level of arrears has fallen further, there is still some migration of loans into the very long-term arrears category.
"The Central Bank will continue to work to ensure that mortgage borrowers in arrears move to conclude durable solutions," it stated.
It said it had also moved "proactively" to enhance the resilience of the banks and borrowers - which in turn will strengthen the wider economy - from potential financial vulnerabilities. Measures taken include the new mortgage regulations.