House prices nationwide are continuing to rise but the rate of increase has moderated, according to the latest quarterly house price survey from MyHome.ie.
The MyHome.ie survey looks at asking prices and it found that that measure rose by 2.2% in the first three months of the year.
Asking prices rose by 5.7% year-on-year, while in Dublin asking prices were up 2.5% and 12.7% respectively.
According to the survey, the asking price for a house nationally stands at €198,000 while in Dublin it stands at €267,000.
The latest data also shows a significant increase in the level of transactions in the first two months of the year.
MyHome.ie's Angela Keegan said the property price register shows there were 6,650 property sales so far in 2015, up 44% on the same time in 2014.
Mortgage approvals of €357m in January are also 66% higher than the same month last year.
"While these figures are encouraging, transactions still only account for 2% of housing stock per annum, or once every 50 years for the average property. In a normal functioning property market the figure would be around 4%," she explains.
Davy economist Conall MacCoille said the moderation in house price inflation was a positive development and did not mark a period of sustained declines.
He said that a mix of factors are behind the slowdown including the fact that affordability is becoming stretched in Dublin.
New Central Bank lending rules, which came into effect in the past month or so, is also affecting the housing market, while the end of capital gains tax exemptions may have driven up demand in the middle of the year, which lead to price falls towards the end of 2014.
The economist said that the affordability index shows that the house price to income ratio is highest in Dublin and Mid Leinster at 5.9 and 4.9 respectively. It stands at 2.8 in the Midlands and at 3.4 in the Mid-West.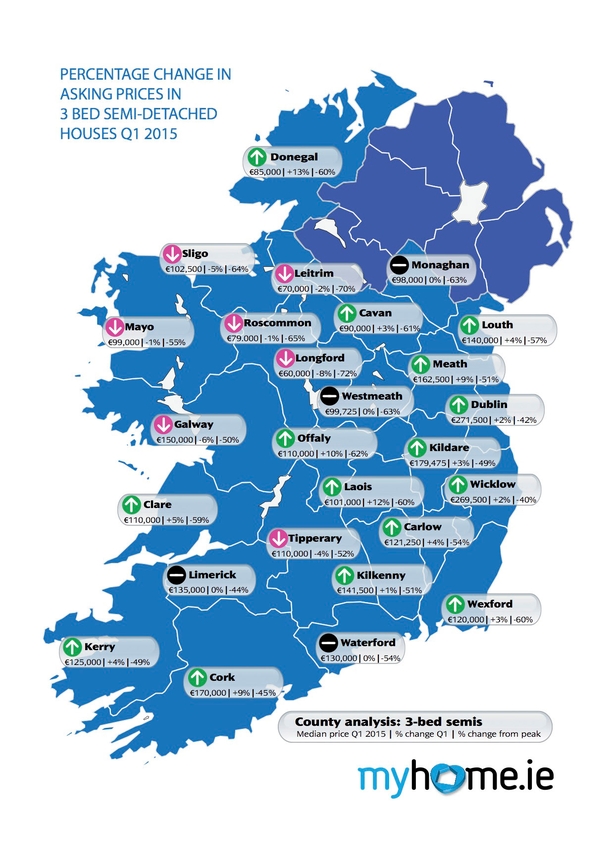 "Although property prices are still well below 2007 peak levels, they no longer look cheap relative to incomes," he stated.
He said the lack of new supply and population growth will help support prices, especially in urban areas such as Dublin.
"However, the flip side of this coin is that the lack of home building will not just hold back first time buyers, but also banks' profitability and ability to lend, employment in the construction sector and potentially Ireland's attractiveness for foreign direct investment," Mr MacCoille said.