Bank of Ireland may consider "bolt-on" acquisitions in the UK as part of a market consolidation, the bank's chief executive Richie Boucher said. 
"We'd always have to look at opportunities," in the UK, Mr Boucher told Bloomberg in an interview today, adding that the bank is not currently in talks. 
"It's certainly something that wouldn't be on our strategic agenda today. What we would look at is things that would enhance capability, rather than transformational," he stated in the interview with the financial news service. 
Bank of Ireland resolved to retain its UK unit during the financial crisis, despite shrinking other parts of its balance sheet. 
The UK business turned from a "strategic conundrum" to an "opportunity" over the past years, the Bank of Ireland CEO said.
It accounted for about 40% of the group's gross €89.5 billion loan book at the end of last year. 
Spain's Banco de Sabadell agreed this month to buy TSB Banking Group for about £1.7 billion to push into the £1.2 trillion UK mortgage market. 
TSB and other challenger banks, including Aldermore Group and Virgin Money Holdings UK, are seeking to win customers from Britain's four biggest lenders, which control as much as 80% of the market.
"Clearly what we see in the UK is the dynamic of the challenger banks," Mr Boucher said. 
"Could we participate or be something in that challenger bank space? There is going to be a consolidation among challengers, as always," he added. 
Bank of Ireland shares have risen 17% this year, giving the company a market value of about €12 billion. They advanced in each of the past three years, outperforming the Bloomberg Europe Banks and Financial Services Index. 
The bank does not plan to sell its British unit, according to Richie Boucher. 
"I don't think you could ever say never, but I think it would be highly unlikely, having made that decision four or five years ago to retain the unit when perhaps an easier decision would just have been to shrink into Ireland," he said. 
Any acquisition would have to be "a very compelling opportunity" as the bank seeks to return to a "sustainable dividend," the CEO said. 
Mr Boucher said he targets a dividend, scrapped since 2008, after the bank redeems €1.3 billion of preference shares in the first half of next year. 
The bank's pace of generating capital as it returned to profit last year, was a "pleasant surprise to the market," he said. 
Bank of Ireland's common equity Tier 1 ratio, a measure of financial strength that fully reflects incoming banking rules, rose almost 50% to 9.3% at the end of 2014.
Boucher drops 'war-footing style'
Meanwhile, the Bank of Ireland boss said he is easing back from his crisis-time style of leadership to give potential successors more control as the lender's loan book returns to growth. 
"We did take a deliberate decision during the tough times that I'd be the lightning rod" for public and political ire during the financial crisis, Richie Boucher said.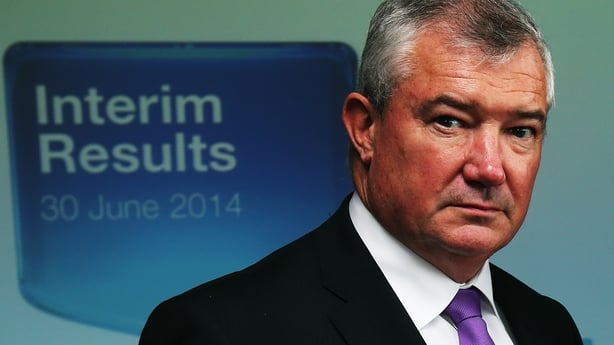 "I also had to be a shield," he said in the Bloomberg interview. 
Since taking over as CEO at the bank six years ago, Zambian-born Boucher shrank the lender's balance sheet, cut jobs and gave €6 billion to taxpayers after receiving a €4.8 billion bailout. 
Having returned to underlying profit last year for the first time since 2008, the bank expects its loan book to grow, according to Boucher, after contracting 38% during the crisis as the bank sold assets and customers paid back loans.
Executives like chief financial officer Andrew Keating, Retail Ireland CEO Liam McLoughlin and Des Crowley, CEO of the
bank's UK consumer division, are to become much more visible to the public and investors, Mr Boucher said.
"It's important for investors that they see the length and breadth of our management team," he added.
Bank of Ireland's shares have risen 29% in the past 12 months to 37.2 cent. They have soared from the 10-cent price at which the Government last bailed out the lender in July 2011.
"Two years ago, the number one question from investors was 'Tell us about the bad debts," Mr Boucher said. "Now, it's, 'When
is your balance sheet going to grow?'" 
The Bank of Ireland CEO said the board is sticking to a target of rebuilding its loan book to €90 billion in time from a net €82 billion at the end of last year. 
While the bank had been preparing for the loan book to start growing again in the second half of this year, this may happen sooner as a result of euro weakness against sterling and the dollar. 
"I'm gratified with the momentum we have and exchange rates may just give us a fair wind," Mr Boucher said.