European stock markets rebounded strongly after upbeat comments from ECB head Mario Draghi but the euro hit new multi-year lows on expectations of a US rate hike.
The euro slid to $1.0538, down from $1.0698 last night in New York.
The European Central Bank's massive bond purchase programme will not ease pressure on governments to reform, but actually magnify the benefits of those reforms, Mario Draghi said today.
The ECB has embarked on a policy of so-called quantitative easing or QE, under which it plans to buy over €1 trillion worth of bonds over the next 18 months.
The aim is to pump liquidity into the system so as to ward off deflation and spur growth in the single currency area.
But QE has its critics, particularly in Germany, who argue that it reduces the pressure on eurozone governments to get their finances and economies in order.
The yield on German, Italian and Spanish 10-year government bonds have fallen to record lows as a result of the massive bond-buying programme.
But Greek bonds are not benefitting from the decline in yields owing to a new spike in concerns over its finances as well as Greek debt not being included in the QE programme.
Greece today raised €1.3 billion in three-month treasury bills at higher interest in an ongoing scramble for cash.
ECB action shields euro zone states from Greek contagion
European Central Bank buying of government and other debt may be shielding countries in the euro zone from any knock-on effect from events in Greece, ECB President Mario Draghi said.
The ECB began a policy of printing money to buy sovereign bonds, or quantitative easing, on Monday with a view to supporting growth and lifting euro zone inflation from below zero up towards its target of just under 2%.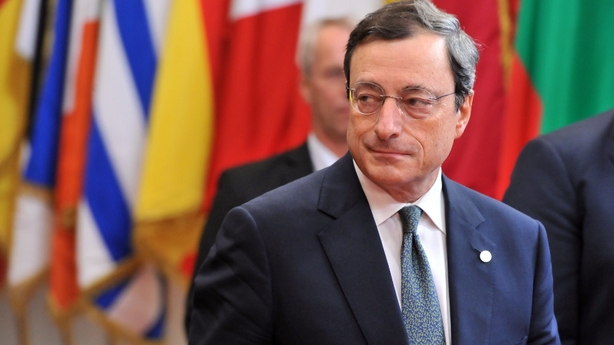 "We also saw a further fall in the sovereign yields of Portugal and other formerly distressed countries in spite of the renewed Greek crisis," Draghi told a conference in Frankfurt.
"This suggests that the asset purchase programme may be shielding euro area countries from contagion," he added.
The ECB chief spoke as Greece embarked on technical talks with its international creditors to agree reforms and unlock further funding amid growing frustration with Athens.
The new left-wing Greek government, keen to show voters it is keeping a promise not to work with the detested "troika" of foreign lenders, has been trying to avoid having talks with inspectors from the three institutions in their own country.
Earlier this week, ministers spent barely 30 minutes discussing Greece at their monthly meeting, an EU official said, stressing it was time for Athens to engage in serious, detailed discussions with experts from the institutions formerly known as the "troika".
On the outlook for the euro zone economy, Draghi said a slowdown in growth had reversed and that the recovery should "broaden and hopefully strengthen."
Updated forecasts by ECB staff published last week showed the QE programme would support growth in the euro zone and lift inflation from below zero up to 1.8% in 2017 - in line with the ECB's goal.
Draghi said these forecasts were conditional on the full implementation of all the ECB's announced measures.
The ECB plans to buy €60 billion a month of assets - mostly sovereign bonds - until at least September next year.