Apple's new smartwatch device, Watch, will have a battery that will last 18 hours and cost between $349 (€320) and $17,000 (€15,700), the computer giant has revealed.
At the unveiling of the hotly anticipated new device in San Francisco, Apple CEO Tim Cook also revealed that it would go on sale on 24 April in several countries but Ireland is not on the initial list.
Some analysts have predicted that because of its influence and its record of disrupting markets, Apple's first smartwatch will kickstart the fledgling wearable market.
However, others have warned Watch could prove a flop for the company if consumers decide that smartwatches are costly and unnecessary additional devices.
Last year 6.8m smartwatches were sold around the world, with early entrants into the market like Samsung, Pebble and Sony leading the way. However, analysts have predicted that this year Apple could sell anything from 10m to 40m of its Watch alone.
As expected, Watch will be available in two sizes across three ranges, with each made from different materials and coming with a choice of straps.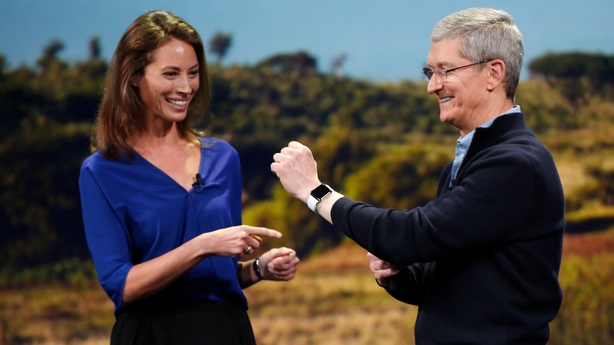 Tim Cook with model Christy Turlington at the Watch launch
The most basic is the Sport model, which is made from aluminium and costs $349 for the smaller model and $400 for the larger.
The mid-range Watch  is made of stainless steel and will cost between $549 and $1049.
A limited edition, 18-carat gold Apple Watch Edition will cost between $10,000 and $17,000 but will only be available in select stores and will not be sold online.
The new device, which will have to be connected to an iPhone for many applications, features customisable faces, health and fitness tracking features, allows the sending and receiving of email and the taking of phone calls.
It will also run Apple's new mobile payment system, Apple Pay, has wifi and Bluetooth connectivity, and can be controlled via voice using the Siri digital assitant.
Apple also used the event to showcase a number of apps built by external companies. These include American Airlines, Twitter and Facebook, WeChat, Uber and Shazam. Pre-orders for the new device will be accepted from 10 April.
Before talking about Watch, Apple announced a new app called ResearchKit, aimed at helping scientists and doctors to conduct medical research using their iPhones.
Among the examples given by Apple of the type of research that it might be used for was balance testing for Parkinson's patients.
To assuage privacy concerns, the company says the user will decide how their data is shared, and that "Apple will not see your data". ResearchKit will also be open source to make it easier for developers to build apps around it.
Also at the event, the US premium cable and satellite channel HBO announced it is launching a streaming service, HBO Now, with Apple as its exclusive partner at launch. Apple also announced it is lowering the cost of Apple TV units to $69 from $99.
The firm also unveiled a new MacBook, which it claims is the lightest and thinnest it has ever built. The notebook has a 12" display, a new keyboard design and a redesigned trackpad.
However, the new laptop only has one connector port for all external connections, which could prove controversial. The so-called USB C port will support a range of connections, including power, USB, HDMI, VGA.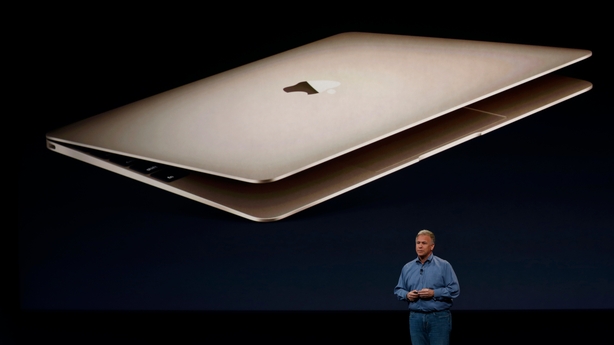 Apple's Phil Schiller introduces the new MacBook
Apple also used the press conference to reveal that it has now sold 700m iPhones. The company also disclosed that the number of locations accepting its Apple Pay mobile payment system has grown to 700,000 in the US since its launch.
The company clearly thinks it has a market-winning product in Watch and Apple's Kevin Lynch demonstrated a host of the launch apps on-stage during the show.
These included a look at the Glances feature, which enables wearers to read full notifications on their wrist, as well as jump into full versions of apps including social media giants Facebook, Twitter and Instagram.
An app partnership with SPG hotels will also enables wearers of the Apple Watch to open their hotel room door with the device.
One of the big questions was over battery life, and Mr Cook said the Apple Watch would have "all-day battery life" lasting "around 18 hours".
"It's a revolutionary way to connect," Mr Cook added.
The new MacBook will join the existing MacBook Air and MacBook in Apple's notebook line-up, and weighs two pounds.
"It's the most extreme and efficient notebook ever," said Apple's Phil Schiller.
The MacBook will go on sale on 10 April, it was confirmed.
Apple will be looking to take hold of the smartwatch market by launching three products at once, ahead of a new iPhone, which is expected to be announced later this year.
Supermodel and keen runner Christy Turlington Burns took the watch for a spin while she completed a half-marathon in Mount Kilimanjaro in Tanzania.
The American model and campaigner gave the high-tech timepiece a glowing review, and revealed she will use it when she runs the London Marathon next month.
Asked about the watch, she said: "I relied on it quite heavily actually. The race was pretty challenging and there was a lot of elevation and altitude so I was checking quite frequently."
Sporting a version of the watch with a blue wristband, she said the Apple timepiece will be with her "every step of the way" during the London Marathon.
She said: "It's the biggest marathon and I'm hoping to beat my record and come in just under four hours, and the Apple watch is going to help me get there."