Weakness in China's vast manufacturing sector appears to have driven the central bank to accelerate the pace of monetary easing to ward off deflation in the world's second-largest economy.
Cuts to benchmark lending and deposit rates were announced by the People's Bank of China (PBOC) on Saturday.
These pre-empted official data released yesterday that showed a second consecutive month of shrinking manufacturing activity for February.
While economists had been predicting further easing to support the struggling economy, some were surprised that the PBOC made its move just days before China's national legislature will meet to set the official economic growth target for 2015.
China posted its slowest growth in decades in 2014, at 7.4%, and sources told Reuters in January the government had settled on a target around 7% for this year.
Beijing has signalled it is comfortable with a moderating pace of growth as it shifts away from investment-intensive export manufacturing toward services.
But that transition remains a work in progress and the factory sector is still a major employer and consumer in its own right.
Although China's official purchasing managers index (PMI) remained below the 50-level that separates expansion from contraction in February, at 49.9 it had rebounded slightly from January's reading and also beat more pessimistic forecasts.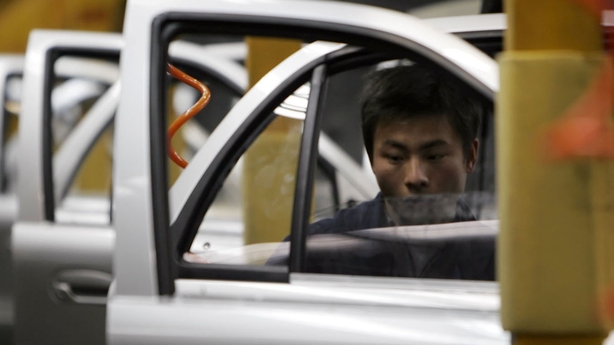 A preview of the data was not enough, however, to dissuade the PBOC from making its second interest rate cut since a surprise reduction in November.
The central bank, which also just four weeks ago reduced the level of cash banks must hold as reserves (RRR), did not address directly why it had chosen to move so quickly.
But its statement noted that the goal of the cut was to keep "real interest rate levels suitable for fundamental trends in economic growth, prices and employment".
While it said that the cut did not represent a change in monetary policy, the announcement did use new phrasing to describe the policy as "neutral and appropriate".
Falling inflation, driven by tumbling commodity prices, has been pushing up the real cost of borrowing. Globally, around 20 central banks have cut rates since the start of the year.
China's inflation and trade data for January were negative, with imports falling nearly 20%.
With Sunday's PMI survey also showing an employment sub-index at its lowest level in two years, there has been little for Beijing to take comfort from so far in 2015, even allowing for seasonal distortions from the Lunar New Year holiday.
The People's Bank of China has highlighted its increasing concern about deflation, with an article in its official newspaper warning that the risk of a deflationary cycle setting in were under-appreciated.
The cuts thus far are seen primarily as reducing the impact of these high real rates on heavily indebted Chinese firms - in particular the large, state-owned companies able to borrow from banks at benchmark rates.