Consumer confidence in Germany is at its highest since late 2001, as rising optimism about the economy and income expectations persuade German shoppers to open their wallets, a poll shows today.
"The escalation of the situation in east Ukraine, the ongoing tensions between the West and Russia and events in Greece are not leaving much of an impression on German consumers, who are increasingly optimistic," market research company GfK said.
"The drop in energy prices is boosting the purchasing power of private households and opening up room for further spending. As a result, income expectations and the propensity to buy are increasing as well," it added.
Looking ahead to next month, GfK's headline household confidence index was forecast to rise to 9.7 points in March from 9.3 points in February.
"That is the highest level since October 2001. The consumer climate in Germany remains in a clear uptrend," the statement said.
Consumer spending would contribute substantially to overall economic growth this year, the institute predicted.
GfK said it expected private consumption to rise by 1.5% in the whole of 2015 "and that is is a strong a rise as in overall gross domestic product (GDP)."
Sentiment in Europe's top economy is on the rise, as a weaker euro and falling oil prices boost the country's exporters.
Earlier this week, the widely-watched Ifo business climate index rose for the fourth time in a row to its highest level in seven months.
German unemployment falls in February
Meanwhile, unemployment in Germany fell in February as growth in Europe's biggest economy picks up, official data also showed today.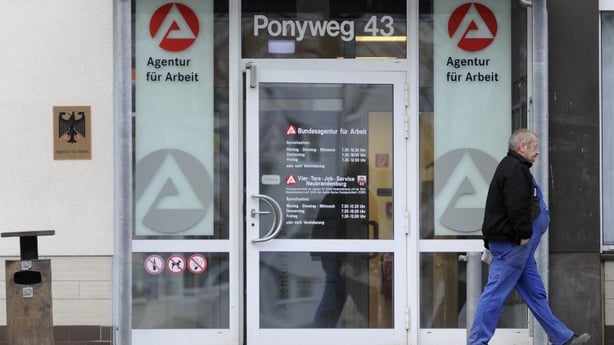 The number of people registered as unemployed in Germany dropped by a seasonally-adjusted 20,000 in February, the Federal Labour Office said, beating analysts' expectations for a much shallower decline of 8,000 this month.
The unemployment rate - which measures the jobless total against the working population as a whole - was steady at 6.5%, the office calculated.
In raw or unadjusted terms, the jobless total decreased by 14,600 to 3.017 million and the jobless rate eased to 6.9% in February from 7% in January, the labour office said.
"The German economy expanded by 1.6% in 2014, thanks to robust growth at the start and at the end of the year. In the fourth quarter alone, gross domestic product (GDP) grew by a seasonally-adjusted 0.7%, driven mainly by private consumption and construction investment," the labour office said.
"During the course of 2015, the economy will continue to improve. The labour market is relatively unaffected by any economic volatility and continues to develop positively," it added.