Royal Bank of Scotland will drastically shrink its investment banking operations, pulling out of 25 countries across Europe, Asia and the Middle East and allowing the lender to refocus on local lending in Britain. 
RBS is seven years into a huge corporate diet, shedding over £1 trillion in assets as it retreats from the acquisitions that once made it the largest bank in the world.
The bank, which owns Ulster Bank, today reported a 2014 loss of £3.5 billion, hit by a writedown on the value of its US business Citizens and new charges relating to foreign exchange investigations and mis-selling. 
Last year's loss was a big improvement on the £9 billion deficit chalked up in 2013 but RBS has yet to turn an annual profit since the financial crisis. 
It has lost £49.5 billion over that period, more than the £45 billion UK taxpayers paid to bail it out in 2008. 
To bolster capital and generate better returns, RBS chief executive Ross McEwan said the bank's investment banking division would reduce its presence in Asia significantly.
It would also withdraw from central and eastern Europe, Africa and the Middle East, cutting swathes of jobs and 60% of assets. 
"Let me be quite clear this marks the end of the standalone global investment bank model for RBS," McEwan said.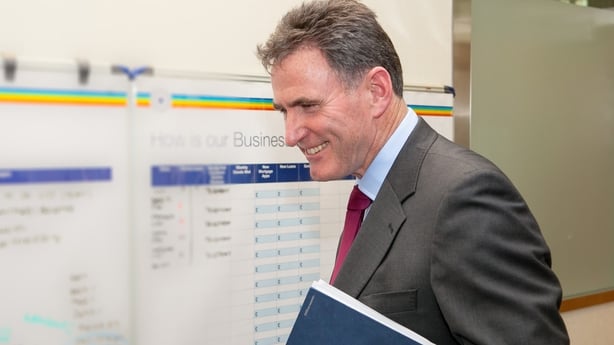 Cutting back on expensive investment banking activities will reduce the amount of capital RBS has to set aside, raising its capacity to potentially return some money to shareholders. 
The bank said by next year it hoped to be able to start discussions with UK regulator the Prudential Regulatory Authority (PRA) about resuming dividends. 
Finance Director Ewen Stevenson said for those talks to happen the bank would need to be past the peak of litigation costs associated with a US probe into the sale of mortgage-based bonds, which he said would likely happen this year. 
A poster child for what went wrong in British banking, RBS is under pressure to focus on lending to local businesses and consumers and to ensure that it does not return to thes washbuckling, big bonus days of the past. 
In a letter to Howard Davies, confirmed today as the new chairman of RBS, Britain's finance minister spelled out what he wanted. 
"I look to you and Ross McEwan personally to ensure that the entirety of the bank's business is conducted to the very highest ethical standards," George Osborne wrote. 
"My priorities for RBS are these: it is a British bank focused on the British economy, with lower bonuses and with a plan to get the taxpayers' money back." 
Conscious of the political sensitivities in the run-up to an election in May, McEwan has opted not to take a £1m allowance, the second year running he has relinquished the payment. 
Overall, the bank paid out 21% less in bonuses this year and the investment bank's bonus pot was halved.