SIPTU President Jack O'Connor has said he does not know if there is any possibility of the union backing the sale of Aer Lingus to International Airlines Group.
Mr O'Connor was speaking after a two-hour meeting with Aer Lingus shop stewards to brief them on his meeting with IAG Chief Executive Willie Walsh and incoming Aer Lingus Chief Executive Stephen Kavanagh.
He said that arising from today's discussion, SIPTU would take up the opportunity to meet Mr Walsh and Aer Lingus.
He said they would also be talking to the International Transport Federation about their experiences with IAG, and try to tease out the exact implications of what is involved, and what tangible assurances they can get about the security and quality of employment for workers in Aer Lingus going forward.
Asked whether there were any circumstances in which he could envisage SIPTU backing the IAG bid, he said he did not know if there was any possibility of them backing it at all - much less in any circumstances.
He said there was a great deal of anxiety and scepticism about what was envisaged among workers, who had conceded a great deal over the years.
Asked what kind of support he would expect from Labour TDs, given the union's links to Labour, he said he would support them in doing what they believe to be the right thing for workers generally based on the best they could do to establish the facts.
Mr O'Connor said Labour politicians faced the dilemma of having to look  into the future to see what was the best alternative given what they could find out about the future of the industry - and the implications for employment if the takeover does not proceed.
Meanwhile, eight Labour deputies has agreed to table an emergency motion on the Aer Lingus deal at the Labour conference in Killarney, Co Kerry this weekend.
One of the TDs John Lyons said they had not yet agreed a wording for the motion as they were going to meet a staff representation tomorrow.
He said TDs welcomed Government's announcement yesterday not to except the offer by IAG.
Mr Lyons said eight Labour deputies were in attendance today, and many expressed concerns about the jobs at the airline connectivity Heathrow slots.
Earlier, Finance Minister Michael Noonan said the proposed IAG deal for Aer Lingus "is not off the table". 
Speaking on Bloomberg TV, he added that he was constrained about what he could say because there are a lot of stock exchange rules to which he is subject during a bidding period.
He said this was not just a decision for the Government but that there are other shareholders in Aer Lingus involved as well.
Yesterday Transport Minister Paschal Donohoe said that the information and commitments provided to date by IAG did not at present provide a basis on which the Government could accept the offer for Aer Lingus.
But Mr Donohoe added that the Government is open to another offer being made. 
Speaking to Bloomberg today, Mr Noonan said discussions with IAG were continuing and that they were amicable.
He said those participating in the talks would look at the deal on commercial grounds and not on political grounds.
The focus was on the Government as a 25% shareholder, but the Government does not "control the match", he stated.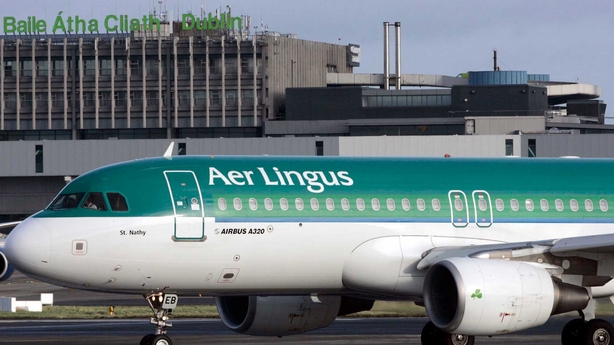 Minister Noonan said he could see the commercial sense in a deal and that it would have advantages for people travelling from the UK to the US in that they could avail of customs pre-clearance in Dublin and Shannon.
He said that if you are a small island in the Atlantic then there is only one way on or off, so clearly connectivity through air routes is a major issue. 
Mr Noonan told Bloomberg that his colleagues are pragmatic and if there was a deal which would bring more business to Ireland he thinks it would be looked on favourably. 
The Finance Minister also said today that the AIB stake sale will be held late this year at the earliest, but added that the Government will sell no more than 25% of its stake in the bank.
The Minister also said that it was the resilience, sacrifice and hard work of Irish people which has brought the country to where it is now.
He praised the fact that Ireland has enjoyed the highest growth rates in the European Union and said the country enjoys a young, dynamic skilled population.
Mr Noonan said that when he went into Government a promise was made to create 100,000 jobs.
Figures this morning show that 95,000 jobs were created. The country is now within striking distance of that target, he added.
On the possibility of a British exit from the EU, Michael Noonan told Bloomberg that the Government is concerned about such a move.
But the Minister said he does not want to second guess the process since he is conscious that the UK is in the middle of a general election campaign.
British Prime Minister David Cameron has said he will allow an in/out referendum on the issue of EU membership if he is in power after the next election in the UK.
The election is due to take place on 7 May.
Minister Noonan said the UK is Ireland's nearest neighbour and closest trading partner and so of course we would watch developments there. 
Today is Mr Noonan's fourth time speaking at Bloomberg since becoming Minister for Finance.