More than 400 jobs will be created in separate developments in counties Cavan and Meath.
Lakeland Dairies is to create 81 jobs over five years at its new processing facility in Bailieborough, Co Cavan.
A further 180 jobs will be created during the plant's construction phase, which will start straight away as part of a €36m investment in the expansion of milk powder processing operations. 
In Co Meath, Tayto Park has announced it is to create 150 jobs from March to the end of August.
There are full and part-time seasonal positions available at the visitor attraction in Kilbrew near Ashbourne.
Roles include administration, hospitality, outdoor horticulture and tour guide positions.
The park, which last week announced construction of the largest inverted wooden rollercoaster in Europe, is due to re-open on 26 March.
Lakeland, which is a farmer-owned dairy processing co-operative, processes over 800m litres of milk a year and exports to over 70 countries worldwide. 
It expects to increase production by 40% to over 1bn litres by 2020.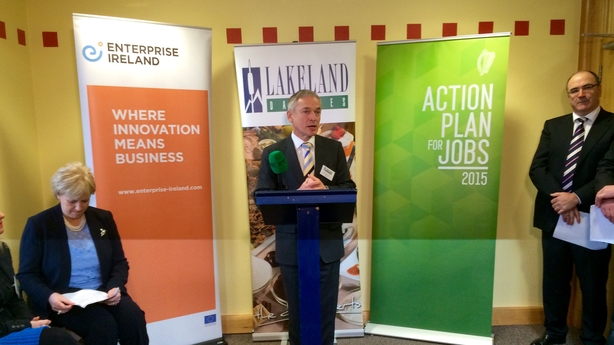 The investment has been supported by the Department of Jobs, Enterprise and Innovation through Enterprise Ireland.