The Central Bank will offer some relief for first-time buyers under revised rules on mortgage lending.
Prospective home-buyers will have to save bigger deposits under the regulations.
Banks will only be able to lend up to a maximum of 80% of a property's value for most owner-occupiers.
However, they will be able to lend up to 90% of the value of the home to first-time buyers up to a limit of €220,000.  
This means that first-time buyers will need a 10% deposit for the first €220,000 of their property's cost and 20% of whatever is above this limit.
For buy-to-let mortgages, the figure is 70%.
The new rules will take effect once they have been laid before the Oireachtas.
Central Bank Governor Patrick Honohan expects that to happen in a matter of days.
He also said that about half of the houses being bought by first-time buyers in Dublin are below the figure of €220,000.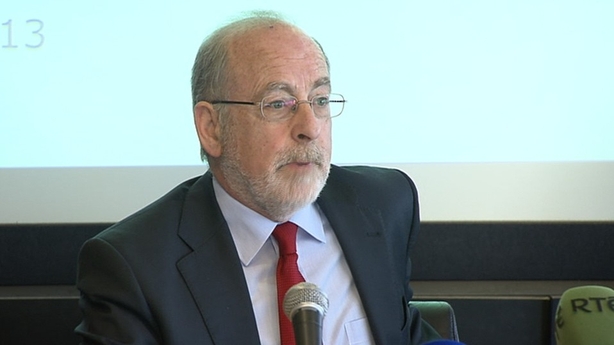 He said: "These measures will reduce potential financial vulnerabilities for both borrowers and the wider economy and will help ensure a stable and well-functioning mortgage lending market.
"We have carefully considered all feedback received through the consultation process.
"As far as the LTV limits are concerned, we are retaining the basic 80% limit for owner-occupier loans and 70% for buy-to-lets.
"At the cost of some additional complexity, but without compromising the overall effectiveness of the measures, we are increasing the limit for first-time buyers of lower-cost houses.
"The requirements are flexible enough to be adjusted in the future should the need arise without the need for a long period of consultation," he added.
After meeting Mr Honohan today, Minister for Finance Michael Noonan said: "The announcement of these revised proposals will provide certainty to borrowers and ensure that banks continue to engage in prudent lending practices."
Deputy Governor Stefan Gerlach said: "In Ireland we are still experiencing the destabilising effects of a property bubble. 
"We have based these regulations on in-depth economic analysis and empirical evidence. Measures such as these should be a standard part of a well regulated financial system."
Mixed reaction to new rules
Fianna Fáil Finance Spokesperson Michael McGrath has said the new rules could potentially result in thousands of non-first-time buyers being trapped due to the "onerous" 20% deposit rule.
However, he welcomed the easing of restrictions in relation to first-time buyers.
In a statement, he said: "On first glance, it would appear that a sensible balance has been struck between the legitimate aspiration of families to own their own home and our collective determination to avoid the mistakes of the past.
"However, I am very concerned with the rules that are being proposed in relation to non-first time buyers as they do not take account of the complex housing needs that many people currently face."
Sinn Féin Finance Spokesperson Pearse Doherty TD gave a broad welcome to the announcement.
He said: "Regulation such as these new rules have a crucial role to play in creating a normal healthy lending market that is not based on runaway property prices fuelled by credit."
Mr Doherty also said that the debate around the new rules has "shown up the Government's' failure to provide social housing and a functioning rental market".
Real Estate Alliance (REA) welcomed the rules for first-time buyers.
"A blanket 80% mortgage cap would have proved excessive towards first-time buyers, making it difficult for them to get on the property ladder," said REA CEO Philip Farrell.
The Institute of Professional Auctioneers & Valuers has said the news of 80% loan to value in most cases is "devastating, coming at this time at the beginning of a recovery in the property market - recovery from the most severe of property crashes".
IPAV Chief Executive Pat Davitt said that the "major intervention in the market will lock many out of property for several years".
Earlier, the International Monetary Fund gave its backing to the Central Bank rules on mortgage lending.