Vodafone today nudged its full-year earnings forecast higher as improving demand in its big European markets and an investment push into new products helped reduce a drop in revenues.
The world's second-biggest mobile operator is faced with increased competition from entertainment groups and fixed-line providers.
It also said today that it plans to launch a broadband and TV service in its home market to compete with rivals who offer a wider range of products.
"There is growing evidence of stabilisation in a number of our European markets," said chief executive Vittorio Colao.
"Our two-year, £19 billion investment programme is well underway, and customers are beginning to see the benefits," he added.

Vodafone, traditionally a pure mobile player, has embarked on a programme to either build or buy fixed-line superfast broadband networks across Europe to enable it to compete with rivals offering mobile contracts alongside television, broadband or fixed-line deals.
Colao said the group would launch a consumer broadband offering with a TV package in Britain supported by its Cable & Wireless fibre network which it currently offers to enterprise customers. It will also use the BT network for those areas where its own infrastructure is not present.
Analysts said the move into more services such as fixed-line telephony, TV and faster 4G mobile as part of the Project Spring network upgrade, had helped the overall results.
The update echoes Dutch rival KPN, which in October showed revenue and profit falling at a slower than expected pace as its strategy of investing in faster networks started to bear fruit.
Vodafone reported second-quarter organic service revenue, which strips out items like handset sales and currency movements, down 1.5%, compared with the near 4-5% falls it recorded in the last six quarters. It also beat the consensus expectation of a fall of 2.8%.
It now expects its full-year core earnings to be between £11.6 billion and £11.9 billion, compared with the previous guidance of £11.4 billion to £11.9 billion. It increased the interim dividend by 2%.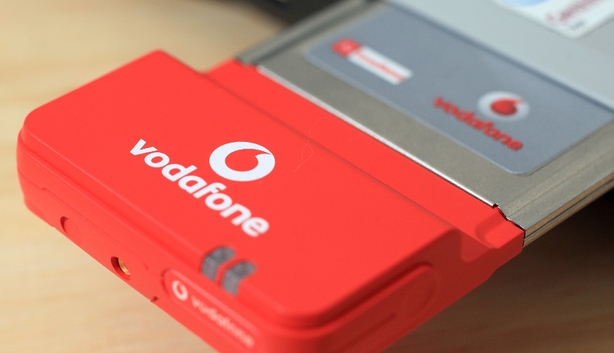 65% of Vodafone Ireland customers now use smartphone
Meanwhile, Vodafone Ireland said its total customer base stood at 2.3 million at the end of September, of which 2.1 million are mobile customers.
The company said that smartphone usage continues to be a key growth driver for demand with data services increasing across the entire customer base. Over 65% of its Irish customers now use a smartphone and 78% of its mobile customer base now regularly uses mobile data.
Vodafone noted that the number of customers on its network using smartphones rose by 2.6% on a quarterly basis and by 13.7% on a yearly basis.
Mobile data usage also increased strongly with a 17% increase in the quarter and a 55% jump in the last 12 months.
Vodafone Ireland said its Average Revenue Per User rose by 2.4% on a quarterly basis to €29.30.
After upgrades in the south east and south west of the country, Vodafone said it has now started work on its mobile network upgrade in Dublin, Galway city, Limerick city and the east coast during the third quarter. It has also increased "high definition voice" coverage to reach 95% of the population.
The rollout of its 4G service is also continuing and Vodafone said it now has over 75% of the population covered across six cities and 352 towns as of the end of September.