Shares in supermarket chain Tesco closed 6.5% lower after it reported a larger than expected hole in its accounts today, forcing it to scrap its full-year trading profit outlook.
Tesco has lost a fifth of its market value in the last month. It said today that its pre-tax profits had slumped 91.9% to £112m in the six months to August.
The group said last month it had overstated its first-half profit forecast by £250m, but Tesco said today this had now risen to £263m.
The company also said in its results statement that its chairman Richard Broadbent is preparing to step down. "The issues that have come to light are a matter of profound regret," he stated.
"We know that we have got a lot of work to do. We know what it is we need to do to turn the business around," commented the company's chief executive Dave Lewis.
He said a full review of the business was under way.
In today's results statement, Tesco said its Irish like-for-like sales in the six month period fell by 6.4% while its revenues for the six month period came to £1.269 billion, including petrol sales.
The company said that the Irish market remained challenging with intense competition led by the discounters and high levels of couponing.
Tesco Ireland opened three stores in the first half of the year with the new Park Pointe in Dublin, and Dundalk Extra stores opening along with a revamped Edenderry store in Co Offaly.
In the second half of the year Tesco will open three new stores in Ballincollig, Cork, and in Aungier Street and Pearse Street in Dublin.
It said its Irish online sales continue to grow with the expansion of its grocery home shopping service now reaching 86% population coverage. Tesco Ireland employs nearly 15,000 people across its network of 146 stores and 22 petrol stations.
Work on accounting error complete
A review by Deloitte into the profits overstatement identified £118m in relation to trading profit for the six months to August, with £70m covering the 2013/14 financial year and about £75m for previous periods.
The accounting group has concluded its work but Tesco said that as the matter is in the hands of the UK's Financial Conduct Authority it was not able to make any further statement about how the mis-statement took place.
However, it said no individual appears to have gained financially from the accounting error, which has led to the suspension of eight senior executives.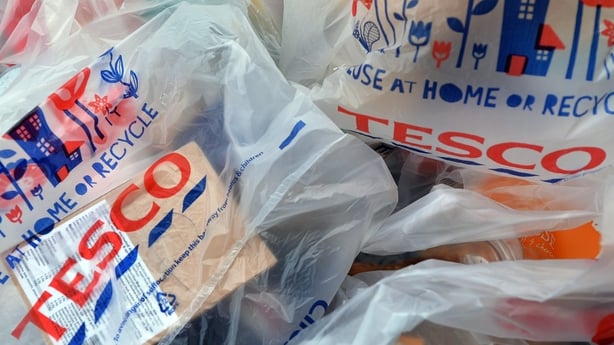 Mr Broadbent, who became chairman in 2011, said his decision to step down will help the company draw a line under the past.
"The board's immediate focus must be on ensuring that we complete the transition to a new management team and that new and far-reaching business plans are put in place quickly," he said.
"These plans will mark the beginning of a new phase for the company and I will begin now to prepare the ground to ensure an orderly process for my own succession at that time," he added.
Tesco said today that its performance was not competitive enough in the first half of the year amid increasingly challenging conditions in the UK.
Total sales in the UK declined by 2.6% to £23.6 billion in the six months, with like-for-like sales for the final three months of the period down 5.5%.
Trading profits in the UK - its main market - declined by 55.9% year-on-year to £499m as a result of falling sales and a sharply reduced trading margin as price cuts hit home.
Tesco shares opened 6% lower as it told investors it was not able to provide guidance on full-year profits because of a number of uncertainties.
"We have three immediate priorities. The first is restoring competitiveness in our core UK business. The second is protecting and strengthening our balance sheet. The third is to begin the long journey of rebuilding trust and transparency in the business and the brand," the company stated today.
Its CEO Chris Lewis dismissed the idea that fraud may have been involved in the accounting blunder: "Nobody gained financially as a consequence of the overstatement of performance."
The chief executive also revealed that payments due to his predecessor Philip Clarke and former finance director Laurie McIlwee were being withheld pending investigations.