Two years after it nearly crashed out of the euro zone, Greece returned to the bond market with investors rushing to buy its debt in a €3 billion deal that could mark the beginning of the end of its bailout.
Athens offered a yield of just 4.95% to sell five-year bonds, the second lowest borrowing costs for a bailed-out euro zone state returning to market.
The bond, the first since its EU/IMF bailout began four years ago, attracted more than €20 billion of interest from over 550 investors, including €1.3 billion from lead managers.
The Greek bond is attractive to investors because it offers a relatively high return in an era of ultra-low interest rates.
Expectations that the European Central Bank will take further steps to boost the euro zone economy are also fuelling appetite for bonds issued by the bloc's riskier countries.

Greece's government said the sale marked the beginning of the end of the tough austerity linked with its €237 billion bailout, which pushed unemployment to a record 27.5% and wiped out almost a quarter of the economy.
"Greece is leaving the bailout and the crisis behind," deputy Prime Minister Evangelos Venizelos said.
The country's creditors also welcomed the move, saying it vindicated the tough economic policies endured by Greece and would bolster sentiment throughout Europe.

"It's extremely good news and it will reinforce confidence in Europe to overcome the crisis," European Competition Commissioner Joaquin Almunia told reporters.
Greece heading in the right direction - Lagarde
Greece's successful bond issue today shows that the long-troubled economy is approaching the end of its crisis, IMF chief Christine Lagarde said.
"I see the issuance that took place today, which was massively oversubscribed, as an indication that Greece is heading in the right direction and that the water-testing that the authorities wanted to do is really successful," Lagarde said.
She made her comments at the World Bank/International Monetary Fund annual spring meetings.
"There is still a lot to be done, the programme is not over, but this is a clear indication that the return to markets - which is clearly the objective of any IMF programme - is on the horizon," she added.
Greece is the third bailed-out euro zone country to return to the markets after Ireland and Portugal. Its borrowing costs, however, remain the highest in the euro zone.

Its solid market return buoyed sentiment in other peripheral bond markets today, driving their borrowing costs back towards multi-year lows.

An Irish sale of €1 billion of 10-year bonds also drew solid demand at a yield of 2.917% at its second regular auction since exiting its bailout in December.
Athens considers the sale as part of gradual return to markets. It does not expect to cover all its funding needs from investors before 2016.

The bond's success is a result of the low-yield environment as investors cast aside memories of the €130 billion of losses Greece inflicted on private bondholders two years ago.
The deal is seen by some investors as the culmination of an impressive recovery and restructuring story.

Greece's debt currently stands at about €320 billion, or 175% of GDP. It is rated nine notches below investment grade at Caa3 by Moody's. Standard and Poor's and Fitch rank Greece six notches below investment grade at B-.

But despite its size, the country's debt is attractive to investors because the 2012 restructuring has made it sustainable for ten years, the head of euro zone rescue fund ESM Klaus Regling said on Saturday.

"The bond issue proves the debt is sustainable, otherwise the markets wouldn't have bought it," Venizelos said.

About 85% of Greece's debt is in the hands of the European Union and the International Monetary Fund, at very low interest rates and on a long repayment schedule. Private creditors are holding just about €30 billion of bonds with maturities between 10 and 30 years.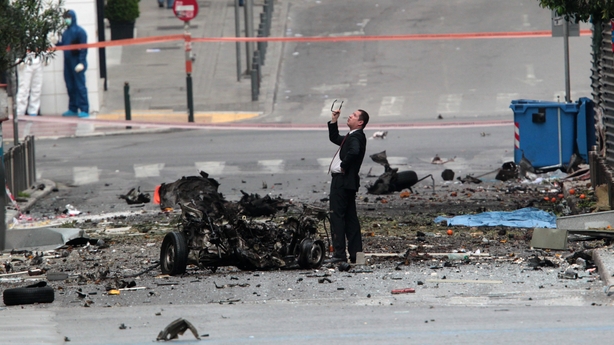 Bomb blast in Athens outside Central Bank
But a dawn explosion in central Athens today served as a reminder of how fragile the country's politics and society remain after six years of recession, Greece's deepest peace-time economic slump ever.
In the biggest bomb explosion the city has seen in years, a booby-trapped car detonated on a street between a central bank building and the headquarters of Piraeus Bank, the country's second-biggest lender.

No-one has yet claimed responsibility for the attack, which caused material damages but no injuries and which police believe was carried out by leftist or anarchist guerrilla groups.

The blast happened a stone's throw away from the finance ministry and the hotel in which German Chancellor Angela Merkel will hold meetings in an official visit on Friday.

Anti-bailout groups and parties are preparing rallies tomorrow to decry the austerity policies supported by Germany, Greece's biggest creditor.

Labour unions held a strike on Wednesday to protest at the government's economic policies and demand an end to austerity.

Jobless data released today showed the unemployment rate stubbornly high at 26.7% in January, even though it dropped to its lowest level in 11 months.

Greeks have seen their real disposable income fall by about 40% over the past six years, there has been a wave of corporate bankruptcies, and suicides have jumped by a third from pre-crisis level, causing the opposition to speak of a "humanitarian crisis" in the country.