KBC Bank Ireland has reported a loss after tax and impairment charges of €80m for the third quarter of 2013, an improvement on the €129m reported the same time last year.
Impairment charges on loans for the three months to the end of September were down from €129m to €98m.
KBC Bank Ireland also announced today that its chief executive, John Reynolds, was leaving the company to pursue other interests. 
In what analysts said was a surprise move, the bank today forecast that it would need to make a provision of up to €775m in the fourth quarter linked to potentially lost loans and mortgages in Ireland.
It said this was as a result of moving restructured mortgages from a non-impaired status to an impaired status. 
The company, which has €15.5 billion euros of outstanding residential mortgages and loans to project developers and companies, said €2 billion of restructured mortgages would be now reclassified as more likely to default.
It was also expecting additional provisions due to the slower than expected recovery of small businesses in Ireland.
KBC said the new provisions follow guidance from the European Banking Association on non-performing loans and in view of the upcoming asset quality review to be conducted by the European Central Bank.
After 29 years at the bank, four of these as CEO, John Reynolds said today he was stepping down. The bank has appointed Wim Verbraeken, currently chief financial officer at KBC Bank Ireland, as its CEO. The appointment is subject to approval from the Central Bank.
In its results statement today, the bank said it expects to return to profitability in Ireland from 2016 onwards.  It employs over 800 people in Ireland and has offices in Dublin, Cork, Limerick and Galway.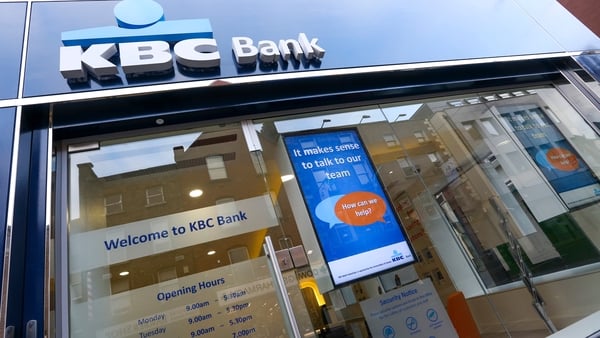 KBC said that it continued its "successful" retail deposit campaign over the quarter with total retail deposits rising by €0.8 billion to €2.9 billion. KCB added over 7,000 new accounts in the last three months. 
"In the context of the changing regulatory environment, KBCI is taking a more conservative approach to impairments by providing for an additional €671m in Q4 of 2013," commented its CEO John Reynolds.
He said this is partly due to the reassessment and review of the loan book under the new guidelines as set out by the Central Bank and on the corporate business side, a more conservative outlook on future cashflows given the slower than expected recovery in Ireland. 
"For 2014, we expect loan loss provisions in the range of €150-200m with the range reducing back to between €50m-100m for the subsequent years 2015 and 2016. Overall, we expect the bank to return to profitability in Ireland in 2016," Mr Reynolds added.
Mr Reynolds also said that the bank recognises that the economy remains challenging for many consumers. He said it continues to adopt a "very proactive approach" to customer engagement with arrears, pre-arrears and at risk customers. 
Belgian parent group's net profit slumps 49%
Belgium-based KBC said its net profit fell 49% from a year earlier to €272m, substantially lower than the €337m on average expected in a Reuters poll. 
KBC said this included a €231m of impairments related to remaining divestments, including €73m for Antwerp Diamond Bank, the only planned divestment for which it still needs a buyer.
KBC sold a series of assets, under an agreement with the European Commission, to focus on main markets Belgium, the Czech Republic as well as smaller interests in Bulgaria, Hungary, Ireland and Slovakia.
It noted that its positive results in Slovakia, Hungary and Bulgaria were wiped out the negative results in Ireland.
KBC has already repaid all the €3.5 billion it received from the Belgian federal state and a first tranche of the remainder it owes the Flemish regional government.