The number of people in work went up by 9,600 between March and June, according to the Central Statistics Office.
In the year to June, the number of people in employment has risen by 33,800.
Figures from the CSO show a 1.8% increase in the numbers in work, which now stands at 1,869,900.
During the second quarter employment increased by 9,600, seasonally adjusted.
This follows an increase in employment of 9,000 in the first quarter of the year.
There was an increase of 21,600 in the number of people in full-time employment - the first such increase since the first quarter of 2008.
Part-time employment increased by 12,100 or 2.8%
The number of private sector employees was up by 21,400, while the number of public sector employees fell by 5,400.
The number of unemployed has fallen by 22,200 over the same period, leaving 300,700 people unemployed.
The seasonally adjusted unemployment rate is 13.7%.
Irish nationals the main driver of emigration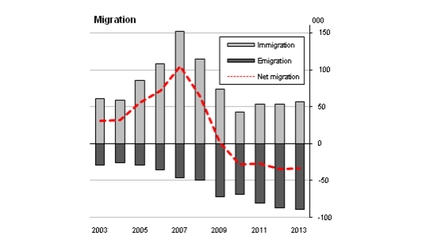 Emigration in the year to April 2013 has stayed broadly unchanged, with a net outward migration of 33,100.
However, the main driver of outward migration is now Irish nationals.
A net 35,200 Irish nationals left the country, compared with 25,900 in the previous year to April 2012.
However, the number of foreign nationals changed from a net outflow of 8,406 to a net inflow of 2,100.
The percentage of Irish nationals in the population has fallen from 88% in 2012 to 87% in 2013.
In the year to April 2013, 89,000 people left the country, while 55,900 moved in, giving a net outflow of 33,100.
There was a natural increase of 40,800 in the population, resulting in a small increase in the total size of the population of 7,700.
This leaves the total population at 4,593,100.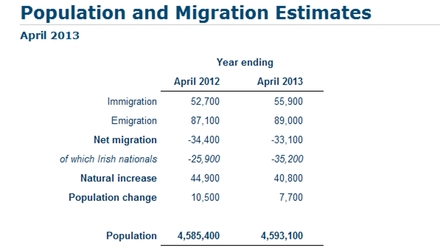 Graphs: Source CSO