On October 24 this year, the analogue TV network is being switched off and will be replaced by a digital signal in line with the rest of Europe.
It is only weeks ago, so if you haven't already done so, now is the time think about it and to start planning for it to make sure you still have TV on October 25,
This guide should answer all your questions, but if it doesn't drop us a line at money@rte.ie and we will get an expert to answer.
What is Saorview?
Saorview is the digital television service, owned and managed by RTÉ, which has been charged with implementing this switch from analogue TV to digital as part of a Europe-wide switchover. As the name suggests it is a free-to-air television service.
What is digital and why can't I keep analogue?
Digital is a completely different transmission system to analogue and sends TV signals in bits rather than waves. The advantage is that digital allows high-quality sound and pictures but the disadvantage is that it generally needs a clear line of sight to work. If the signal hits a building or a tree, it more or less ends, whereas analogue signals would have bounced around and the signal weakens as opposed to disappears.
This is important if you want to understand why you cannot get digital if you are in a mountainous area.
When analogue is switched off, it will be gone forever. You can still use your analogue aerial, but you will need a decoder, also known as a set-top box, to convert the signal you receive. See below, under 'What do I have to do?'
What can digital TV offer?
There is better picture and sound quality. As it is more resilient and less susceptible to interference than analogue it means that there will be no 'snowy' pictures is as in the past. You'll have a crisp picture or nothing at all.
Because digital channels take up less space in the airwaves than analogue, there is room for more channels, plus radio stations.
There is also an on-screen seven-day TV listing and interactive programme guide.
What channels do I get?
Saorview provides the Irish channels free of charge just as you get them currently. But there are some new Irish channels too.
The full list is:
TV channels:
RTÉ One
RTÉ Two HD
TV3
TG4
RTÉ News Now – news bulletins (current online news content for broadcast)
3e
RTÉjr – Daytime only for children. No advertising.
RTÉ One + 1 – Evening on same channel as above. RTE 1 programmes one hour later. No advertising.
RTÉ Aertel Digital
Radio stations:
RTÉ Radio 1
RTÉ 2fm
RTÉ lyric fm
RTÉ Raidió na Gaeltachta
RTÉ Choice
RTÉ Pulse
RTÉ 2XM
RTÉ Gold
RTÉjr
Radio 1 Extra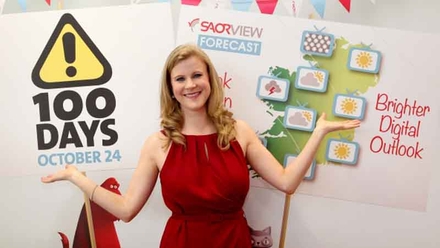 What do I have to do?
The signal is broadcast from transmission masts across the country and is received through a standard UHF TV aerial. The signal is sent to the aerial but then each television has to be capable of decoding it. This conversion takes place either through the set top box or an in-built decoder (an idTV). So the difference is that you need a decoder to read the new signal.
There are 1.6million TV households in Ireland. Some will have to buy a set-top box to decode the signal (i.e. get the new service), others will have to do nothing.
How do I know if I have to upgrade?
If you subscribe to UPC or Sky you don't have to do anything. These are already digital services.
However approximately 21% of TV households receive TV exclusively through an aerial and approximately 37% of TV households receive some TV through an aerial (i.e. a second TV).
If you fall in to this category then you still keep your aerial and buy a set-top box. Even if you buy an integrated TV with no need for a set top box, you still need to keep your aerial.
You do not need to buy a new TV buy you do need a set top box for each TV set.
Aerial users are mainly rural and over 55s so even if you don't use an aerial to watch TV, you probably know someone - a relative or neighbour - who does, and you should make sure they are prepared for the switchover.
How much does it cost?
The set top box costs between €50 and €80. Others can cost up to €100 but come with added features such as pause and rewind or a record function. Once you have purchased this, attach to your TV via the scart cable and tune in the channels, and you receive the channels free as before.
If you need a new aerial (some householders will - see below), you may want to get a professonal to install it and this could add another €100 or so to your bill.
But remember this is all a one-off cost. Saorview is free to receive.
It is advisable to only buy a Saorview approved set top box (look out for the Saorview sticker).
This has nothing to do with profit or Saorview encouraging you to buy a particular model. Rather they want to make sure that the set top box is fully compatible.To that end, they have been testing set top boxes in an independent test facility and once it passes, the product is licensed to carry the Saorview logo.
It is important because if Saorview make any changes to encoding, channels etc down the line, they will first test the changes with all Saorview approved models, to ensure no one will have a problem
If you have a non-Saorview approved product, any changed made could result in it not working meaning you might have to buy another set top box.
The same applies to buying a new intergrated TV (idTV); buy a Saorview approved one only. Be aware also, that if you buy a Freeview-approved TV set in the North, you will not be guaranteed that it is completely compatible.
Saorview costs
What are my options?
What channels will I get?
How much does it cost?
Cost after Year One?
Saorview box alone
8 Irish TV channels + 10 radio channels
€75 for box off shelf + self-install

€225 for box + aerial + installation
0
Saorview with free-to-air satellite
8 Irish TV channels + 10 radio channels + over 100 satellite TV
€150 for box with satellite decoder

€350 for box with aerial and satellite dish installation
0
Do I have to get a new aerial?
The majority of aerial users should be capable of receiving the digital signal. Check the following:
1. If you currently receive RTE1, RTE2, TG4 and TV3 through your aerial, should be fine and you won't have to do anything.
2. If you currently receive RTE1, RTE2, TG4 but not TV3 through your aerial, it still likely to be fine but the aerial may be pointing in the wrong direction.
3. If you only receive RTE 1 and RTE2 but not TG4 or TV3, you may need a new UHF aerial pointed at the best transmission site in your area.
Beware: There is no such thing as a 'digital' aerial, so beware someone telling you that you have to buy one. There have also been reports of rogue traders calling to doors, and some have Saorview logos on clothes and vans. Neither Saorview or RTE are calling to any house.
Instead you should go to your local retailer who can recommend an aerial installer. Saorview is also working with a number of trade bodies with competence in this area, who undertake vetting and registration of their members.
These are:
Confederation of Aerial Industries Ltd
Irish Satellite and Aerial Association
National Guild of Master Craftsmen
What about second TVs?
It's worth remembering how much the second or third TV can cost: Multi room viewing packages can cost up to €180 per room per year depending on service provider.
That is in addition to a basic subscription on a main TV can result in an annual bill of almost €500. Over a ten year period a family could stand to save thousands of euros in subscription fees by switching to Saorview combined with free to air services with no ongoing charges.
That's hard cash that could be used to pay for holidays, car upgrades or contributions to further education costs.
What about UK channels?
Saorview provides only Irish channels. To get UK channels (other than paying for a subscription service), you can pick them up for free via free-to-air satellite or subscription to Sky. There is another set-top box for that (and a satellite dish). You can also get combi-boxes (Irl and UK), and Saorview will be approving those.
There will be some overspill from Northern Ireland and from Wales to households in the east.
As with the current analogue system of delivery, 98% of the population will be covered by Saorview. The remaining 2% are not due to the typography of the country. However, a satellite solution is currently being tested (Saorsat) and while it's not finalised yet it will be in place for the switchover date of October 24th.
How do I know if Saorview is in my area?
The Saorview website has an interactive map which will show you whether your area is covered or not
Can I switch to digital now?
Saorview is already accessible to 97% of the population, so you don't have to wait until October to make the switch.
For further information:
locall 1890 222012