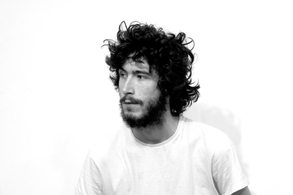 Sebastian Adams, Composer in Residence 2016: Blog 2
Hello again! I looked up my last blog post to check what I had been droning on about previously, and couldn't believe that it has been two months since that was written!! Which means I am now a quarter of the way through my year as RTÉ lyric fm's Composer in Residence…Yikes!
It has been a busy couple of months, particularly over the last week, and one of the nice surprises is that I have been doing more viola playing than I had expected.
At the end of January, Kirkos took part in an excellent concert of minimalist film music run by the Irish-based Australian composer Natasa Paterson (which came complete with over-18s-only imagery that was greatly enjoyed by certain portions of the audience – sadly, all this took place beyond my field of vision).
In the middle of the month, I made my first ever (!!) trip to London to take part in a very unusual gig with the composers' collective Bastard Assignment (once again, this concert involved some VERY explicit props), and just the other day I was involved in the premieres of two brilliant new pieces: Hypnic Jerks, a solo viola piece by Finola Merivale (a huge emerging talent, check her out here) and Kirkos' first ever collaboration with Dublin Laptop Orchestra and Tonnta Music for an epic new piece by my predecessor here at lyric, Linda Buckley. This was part of a really special event run by Ensemble Music, a burgeoning production company who are beginning to make serious inroads in creating appreciative audiences for the sorts of talented artists who previously found them hard to come by.
Other viola-related events have included a couple of rehearsals with the phenomenal Jonathan Nangle, one of my former teachers. Jonathan has been a huge influence on me in every respect, and is without doubt one of the finest composers in the country – we're launching a new improvising partnership on April 20th in the Dun Laoghaire Lexicon, as part of my residency there. Tickets are free and already available here.
After all this (and the unmentioned Arts Council applications I may or may not have been involved in drafting), I think I can forgive myself for maybe not getting quite as much composition done as I had hoped. In preparation for my short, sharp orchestral suite for the RTÉ Concert Orchestra, I wrote a movement and a half (one half still to come) of a short 1916-related piano piece for my close friend, the outstanding pianist Máire Carroll. This work is inspired by one of the sadder and more overlooked aspects of 1916, a thought-provoking idea which was Máire's, and not mine. Read here for more.
Still on a 1916 note, I also recently completed my first piece of work for RTÉ lyric fm. This is a theme tune for Writing the Rising a short series running this week and next at midday, presented by Damien Kiberd. I set about this with armed with nothing but a viola, a computer and a very cheap microphone. The theme is a treatment of the tune Óró, sé do bheatha 'bhaile. It begins in rousing style with about eight overdubbed viola parts, before skitching quickly into a slow, mournful version. For the slow version, I recorded the viola using a hotel mute (for practicing when other people are around – this gives a small, strangled sound) and a very bad microphone specially chosen for the hiss it introduced. I augmented the recording with a sample of a vinyl record with nothing pressed on it, and the tune gets slower and slower using digital manipulation. The point of this is to drag the listener into a reflective mood as they prepare to listen to Kiberd's fascinating views on the subject in question.
I've also made some progress on the aforementioned orchestral suite! Three movements are partially done in short score (i.e. unorchestrated) form, and I have an idea for a fourth. One more is needed, and I'm still not sure whether my current idea for the title and overall subject – Francesco Geminiani's Treatise on the Art of Good Taste in Music – is going to stick… but we're getting there. Here's a short sample of what it might sound like: Click here to listen.
Next time, I might post a little clip explaining part of the composition process for this movement, which revolves around many permutations of the same four notes.
Till then, goodbye!
Click here for Sebastian's first Blog
Find out more about Sebastian Adams and previous Composers in Residence here