Composer in Residence Sebastian Adams
---
Blog 5
I'm checking in to say that my piece for the RTÉ NSO is out of my hands! The fact that I haven't been in touch for a while can be partly explained by the fact that this piece had a very torturous composition process…especially near the beginning!! The opening bar, and how to get from that to the rest of the piece that I wanted to write, simply refused to come out. The only accurate comparison I can make is to say that writing that bar was similar to trying to squeeze the last precious, stubborn drops out of a large ketchup bottle.
Mini confidence crisis over, I got on with the rest of the piece and it started to go ok - and gradually a lot more than ok. I finished it over Christmas and let it sit for a few days, before orchestrating it fully around the New Year. I tell you this simply to dispel the myth that being a composer is a pretty cushy job. While you were nursing hangovers and eating turkey sandwiches, I was tying crotchets to other crotchets. Or something.

The concert is on April 4th, alongside music by Detlev Glanert and a piece by Irish composer Andrew Hamilton that I have been raving about a lot to the diminishing number of people who don't run away when I start talking. I've attached the programme note below, to give you a sneak peek of what I have written. Clue: Fast, short, not a machine.**
As usual for me, there are a lot of non-compositional activities going on. Over the next month I foresee spending just three or four afternoons on composition stuff, and none of that will be new work. The RTÉ Concert Orchestra are recording the piece I wrote them on April 4th, and I have quite a few revisions (i.e. the nice word for "unplayable bits") to make, and I have also agreed with Hannah Miller, the Kirkos horn player, that the solo piece I wrote for her two years ago is much too long (sorry to the 80 people who already sat through it). This process of revisiting old work is something I don't get the chance to do as often as I'd like, but a revival performance (or a recording) is the one way to make sure I get around to it!!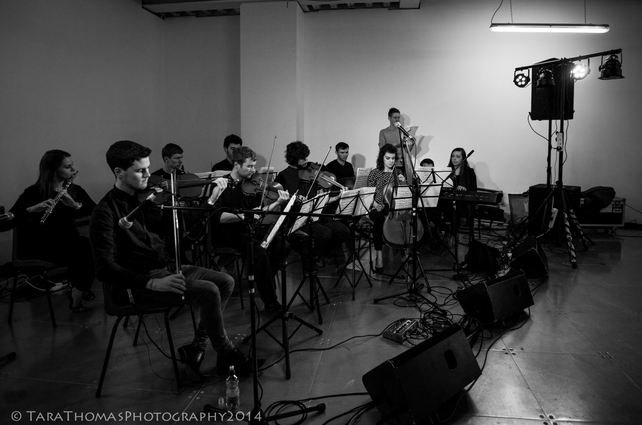 The Kirkos Ensemble: Photograph by Tara Thomas
The reason for all of this is the usual crazy tangle of poorly-timed concerts, which will conclude in a string quartet concert on March 18th where I will perform as part of Kirkos, doing a lot of spectacularly beautiful contemporary music (and Webern's incredible Op. 5 string quartet). Next week, I'm doing experimental stuff in New Music Dublin with Kirkos, playing Ravel, Mendelssohn and Rossini with the RIAM Philharmonia and organising rehearsals and a concert for the Fishamble Sinfonia with Dun Laoghaire Choral Society, doing Lully and Purcell (amazing music). And then some other stuff that I'm not ready to think about yet.

But after that, I have quite a few very interesting pieces to write over the rest of 2017, and I'll keep you posted about these and other developments, as things happen.

As I don't have any audio for the new NSO piece, I thought I would include this clip of a piece I'm very proud of, which has just been performed (and recorded in RTÉ Studios) by the wonderful ICO Academos String Academy Orchestra. Hope you like it:
**Programme note for 2016.4
When I began thinking about composing this piece for the RTÉ National Symphony Orchestra, I had recently heard the premiere of Andrew Hamilton's C, which I knew was going to be programmed alongside my new piece. C blew me away: it has a kind of joyful emotional power that is very rarely found in contemporary music, and perhaps if I hadn't known this piece would be played alongside Andrew's, I would have wanted to write something quite like it… but of course, I couldn't, because the theft would have been immediately obvious to the audience!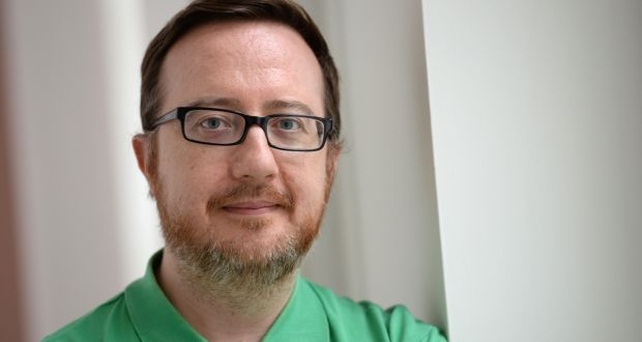 Composer Andrew Hamilton. Photograph: Dara Mac Dónaill
Around the same time, a conductor said something during a rehearsal I was playing in about the Marriage of Figaro being the greatest of Mozart's operas, and that comment drew me back to it. I entered a period of listening to its overture obsessively, with Hamilton's C always at the back of my mind. I ended up taking this overture as a direct model, and although the end result hopefully doesn't sound anything like Mozart, my aim is for 2016.4 to evoke the same feelings as its model: an irrepressible sense of the joy of being alive!
Click here for blog entries by Sebastian
Find out more about Sebastian Adams and previous Composers in Residence here