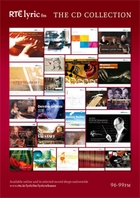 Our aim is to promote classical music, Irish musicians and composers at home and abroad, and to create a commercially available, quality record of how much incredible music is being made in this country. For more information or to submit recording proposals, please email us.
All our new releases are available online at:
and from music stores nationwide. Click on the titles below for more information.